---
---
Coupon Code: WF020TP   1) save 5% on Replacement Filters when you purchase 1 or more WF020TP pet water fountain
                                          2) save 5% on New Replacement Filters when you purchase 1 or more WF020TP pet water fountain
Coupon Code: WF020     1) save 6% on Replacement Filters when you purchase 1 or more WF020 white pet fountain
                                      2) save 6% on New Replacement Filters when you purchase 1 or more WF020 white pet fountain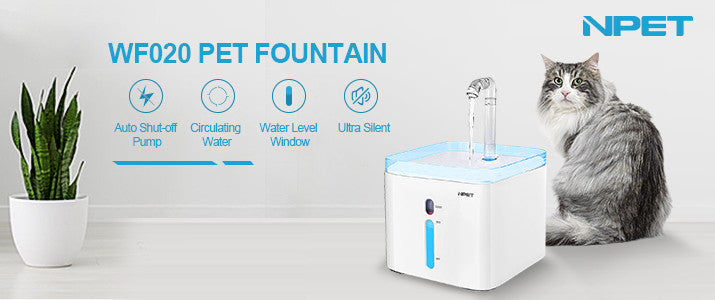 2 Different Flow Designs
NPET Special Design
1. Upgrade Filter Alarm System: If the filter element is clogged, the buoy rises, reminding you to clean or replace the filter.
2. Mini.and Max Water Level: Transparent visible remaining water.
3. Double Floor Mat: Stable reinforcement cushioning anti-slip.
4. Power Outage Emergency: 2 Emergency Waters to Meet the Cat's Daily Drinking Water.
5. Safe and Energy-saving, Can be Powered by Mobile Power, 1 kWh power per Month

Ensure Drinking Water Safety
200ml water storage bowl

 

provides one-day drinking water for cats in case of a power outage.

Quadruple circulating system

 

allows your lovely pet to drink fresh and filtered water all the time.

Anti-dry Pump
1. Ultra Quiet Water Pump(below 45dB), Allowing You and Your Pet to be Quiet
2. Anti-dry Pump:automatically power-off design for no worrying about machine will burn out
3. Pump Maintenance:
-Remove the pump cover
-Remove the impeller cap by placing your fingernail underneath the small lip locate
-Remove the impeller and clean the parts with warm water with towel
-Please clean the pump once a week.

【External Sensor 】 Extend the fountain's life with this sensor switch. Range of detection: approximately 3 m. Induction angle: cone angle of 180°. Instructions: 1. Insert the USB plug of the fountain pump into the USB input port of the sensor. Then insert the USB plug of the sensor into the adapter. 2. Stick the sensor in one place. + mark means to extend the time, - mark means to shorten the time.

 Package List (wf020 water fountain without adapter)
【101oz/3L Large Capacity】Large capacity fountain tank can satisfy the different sizes of pets and a good choice for you with multiple pets. No need to replenish the water frequently. Water storage bowl design provides one-day drinking water for cats in case of a power outage.
1× Pet Fountain

1× Faucet Kit

1× Filter

1× Auto Shut-off Pump

1× Instuction
🐾【Model Comparison】We have several models of cat fountains that hold a different amount of water.

 

Check it out here.
---
This fountain had everything I was looking for.
The pump noise is a good enough alert system when water level is too low. But if you don't keep it clean regularly, it will not work right!
We really loved this fountain.
It was fairly easy to put together, and the water flow is quiet if you don't use any of the attachments. My cats and dog love it.
The fountain is quiet.
I use distilled water in the fountain, my cat start to drink a lot of moving water now. We are thankful for this product! Keep it clean and this little fountain will work optimally.
It performs well.
The pump fairly quiet, and has protection of burning out. I clean whole fountain and all accessories weekly. My cat prefer the bubbler mode of water flowing. I love this product and think it was well worth the money.
I would have recommended this pet fountain.
I am using the spout that has the three leaves on it. we have one cat, she just put her mouth at the end of one of the leaves, ​and just let the water run into her mouth. Great purchase!