---
---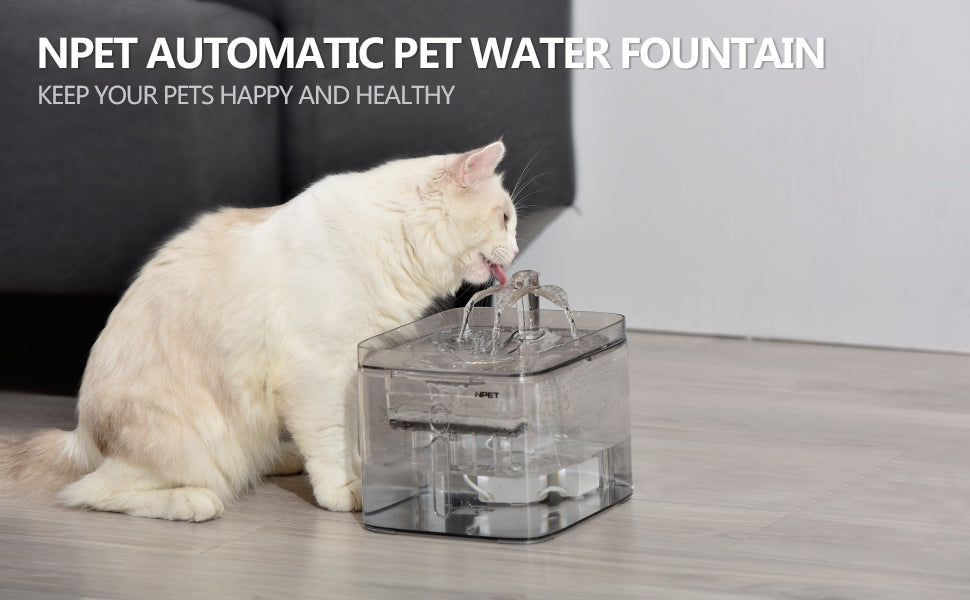 NPET Pet Water Fountain
Latest fully transparent design.
3L large capacity is great for dogs, cats, multiple pet households.
Three Water flow modes, providing clean running water, make your pets happier and healthier.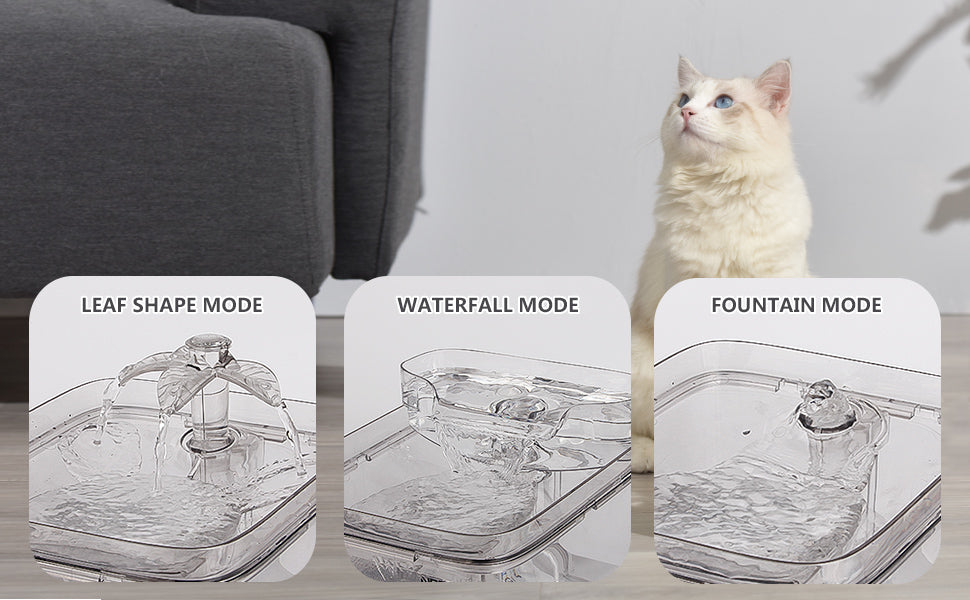 LEAF SHAPE MODE: Flowing water is more attractive for cats to drink water more often. 3 water outlets can meet the needs of multiple pets to drink water at the same time.
WATERFALL MODE: Largest flowing water surface, increasing the oxygen content in the water, suitable for dogs, adult or large cats.
FOUNTAIN MODE: Gentle bubbly water surface, dogs & cats like the spacious water table, Enjoying the charm of flowing water, which is the ideal choice for cats birds and dogs.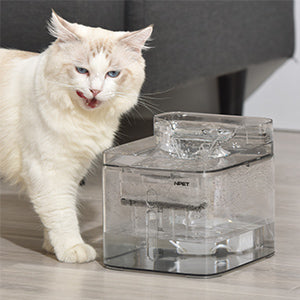 Efficient water recirculation system

, keeps water clear & fresh, make your pets drink more purified water at any time, keep away from stones, urinary tract problems.
The

 

3L(101oz) capacity

 

water fountain is enough to keep a few cats happy at once for up to a week at a time.
Made of BPA-Free PS materials, keep your pets healthy.
It is

 

easy to install and clean

, making life easier for you and your pet.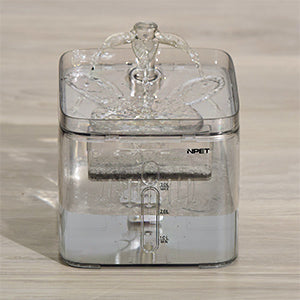 Fully Transparent Design

: Let your pets see the water clearly.

Unique there-layer water flow design

: keep the water clean and fresh.

Lovely water storage shape

, attract pets to drink more water.
Power Outage Emergency:

 

2 Emergency Waters

 

to Meet the Cat's Daily Drinking Water.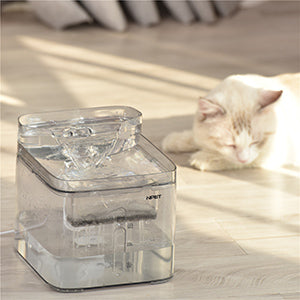 Low consumption, ultra-quiet pump.
Noise-canceling, easy to assemble.
Ensure the water of the fountain between MIN and MAX level to keep the pump run normally.
For the health of your pet, it is suggested to change the water and clean the fountain every week, clean the filter per week and replace the filter every 4-8 weeks.

🐾【Model Comparison】We have several models of cat fountains that hold a different amount of water.

 

Check it out here.
Customer feedback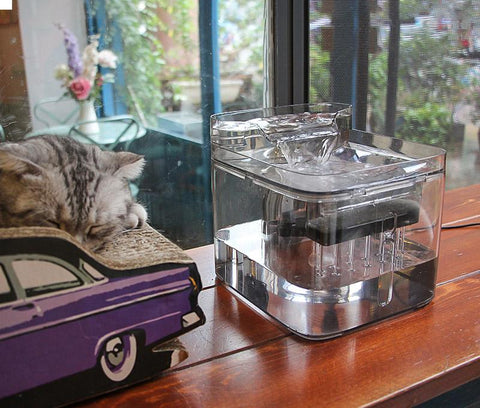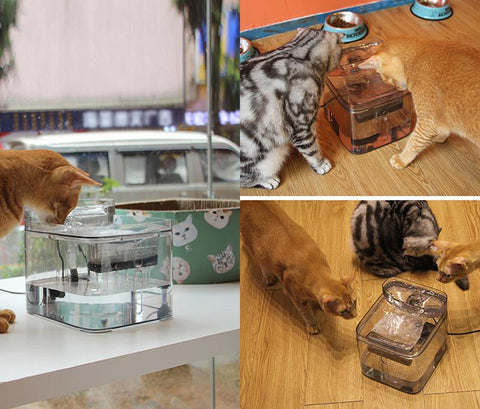 ---
Customer Reviews
11/06/2020
Jill .
United States
This pet fountain works well
It's relatively easy to clean and comes with an extra filter and cleaning tools. It is the by far the quietest fountain I've ever owned, And my kitters love it.
08/11/2020
Mark R.
United States
Very nice
I wanted something that was elevated. My cats seem to like that. I also like that dirt and food debris is filtered out before it goes through the pump. My old fountain had a filter AFTER the pump. I like that it is quiet. I like that it is clear. It is easy to tell when it is getting low. Over all, I am happy and I highly recommend this fountain.
07/29/2020
Francesco D.
Australia
Good product
Got it assembled our cat already using it now waiting for new puppy all good tanks
He LOVES it
Very pretty design I have the most picky cat, for the last 5 years he would only drink out of a certain dish, thought I was give this a try since were leaving for vacation, he'll have water the whole time that is fresh and filtered. He absolutely LOVES it!!!
My kitty cats love it!
I like the large water capacity and different flow options. It's quiet and easy to clean. The challenge I have is placing the water pump on the floor of the fountain and connecting it to the water storage tray. The connections are not tight and fall apart as I place the pump on the bottom. I have watched the video many times and it does not help. I would buy a second fountain if I did not have this problem.