---
---

NPET VM20 Wireless Vertical Mouse, Ergonomic Noiseless Mouse with USB Receiver
NPET ergonomic mouse is full of vitality, innovation, and has many health benefits. By changing the way you use your wrist and arms, you will effectively reduce pain and discomfort.
This wireless vertical ergonomic mouse is powered by 1 AA battery(NOT INCLUDED), Low power consumption and very stable performances.
2.4G Wireless Technology: Working distance is 10m which is enough for daily use.

Plug & Play: The nano receiver works right away without software. No hassles.

Strong Durability: Over 6 million times makes itself more durable for long-time use.

Comfortable And Scientific Ergonomic Design: For maximum comfort and support.

3 Adjustable DPI Levels: 800/1200/1600. Change the cursor sensitivity depending on your activity.

Auto Energy-Saving Sleeping Mode: Go into sleep mode automatically with no operation in 1 min.

Back/Forward buttons: Moving quickly between documents or browsing your favorite web sites.

Widely Compatibility: Can be used for any PC, computers, laptops, desktop, etc.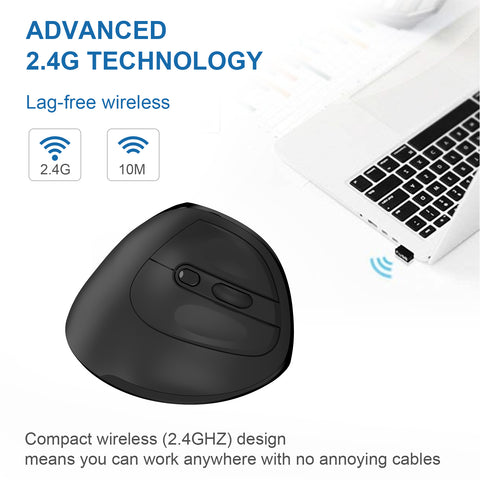 33FT Wireless Distance
Features advanced 2.4G wireless technology that ensures reliable connection up to 33ft. The usb receiver is inserted on the back of the mouse, just plugs it into your computer's USB port and you can avoid being bothered by the power cord and use this mouse anywhere.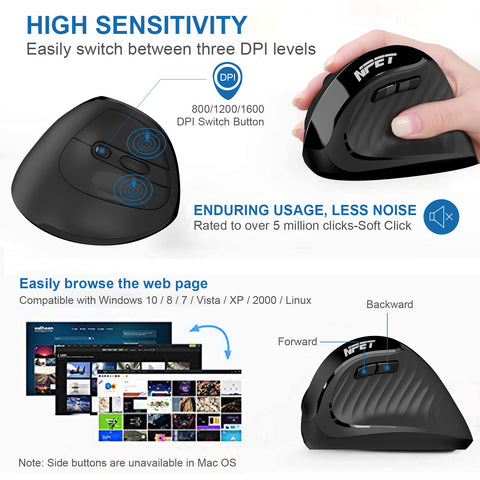 3 Adjustable DPI
800/1200/1600 easily change the cursor sensitivity depending on your activity. Two side buttons that you can use to control page forward/backward for increased productivity. Advanced technology help mouse moves around the computer screen smoothly.
Widely Compatibility
Widely Compatibility Well compatible with Windows7/8/10/XP, Vista7/8 and Linux etc. Fits for desktop, laptop, PC, Notebook, Computer, and other devices. This product is not compatible with macbook pro or other laptops which only have type c ports.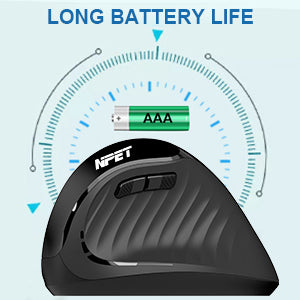 Long Battery Life
A smart sleep mode and an On/Off switch act to save power. It will go into sleeping mode after 1 minute of no-operation. For energy saving, it can be easily activated by clicking any buttons. Don't need to worry about changing batteries frequently. 1 AA battery needed but not included in the package.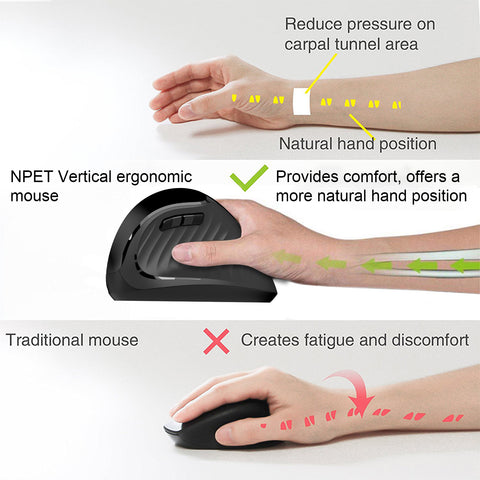 asy-access use
The forward button and the back button can facilitate your daily operations and improve your work efficiency, but the side buttons are unavailable in Mac systems. Whether dragging and dropping or selecting large volumes of data, this mouse provides a low-cost, effective solution for multiple computing needs.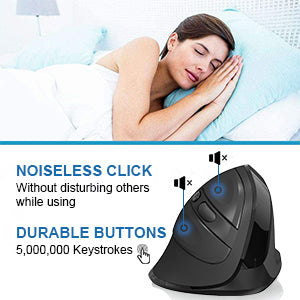 Noiseless Click
The click lifespan for left/right button would be 6,000,000 times. Wireless mouse will bring you a silent using environment. Its clicks are very quiet and soft, so you don't have to worry there will be noisy clicks to disturb others around you. Quieter and Easier to click, make you concentrate on your work.
---