---
---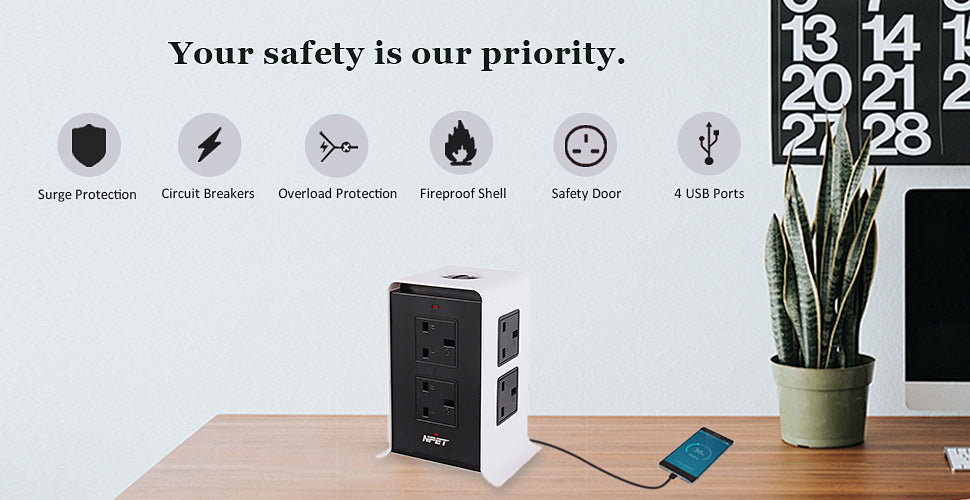 【Space Saving】With vertical housing design, 8 AC appliances and 4 USB devices are integrated into one extension leads. Make it perfect with powering them simultaneously and ensure the best spacing for easy plugging of your devices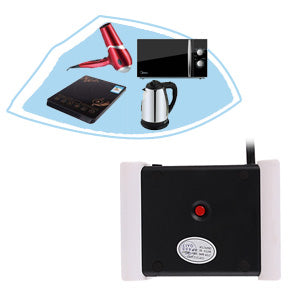 NPET Tower Power Strips 3M with USB
Ideal for provde you a safe environment and made your cables neat and tidy.
It build-in lightning protection, surge protector and overload protector provides protection against sudden surges,
such as lightning, short-circuiting, and lower surges.​8 way outlets and 4 USB ports are integrated in the one vertical extension leads. 

Your Safety is our Priority
When extension lead overloads, the tower extension lead will automatically cut off the power to protect you and AC appliances.
Once it happens, please unplug the extension lead from power source, then unplug the high power consumption devices. Press the red button on the bottom to reset it for normal use.
Please ensure that the total rated power of appliances is under 2500W.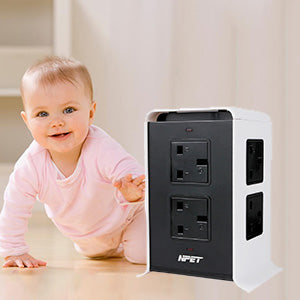 Household Electrical Appliances Protector
- Also Safe for both users(children) and appliances.
- NPET Extension Cord built-in safe door to protect children from unexpected electric shock.
- It's a better choice for home, dormitory and office.
Good to know
- Do not disassemble it by yourself.
- Do not place the extension lead or devices near wet areas, high-temperature or other severe environments.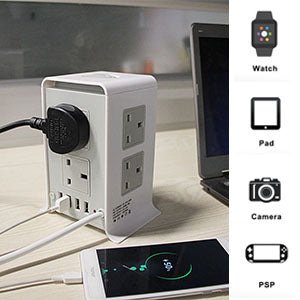 Compatible with USB devices
- Extension lead with 4 USB ports can simultaneously power appliances and iPhone, iPod, PSP, electric toothbrush,sport action camera , dash cam, blackhead remover and other USB devices.
Compare with iPad Pro:
Power Strips Dimension : 16 x 12 x 9 cm The size is smaller than iPad Pro. 
- It take up a little place, sort your cable and keep it clean and neat from now on!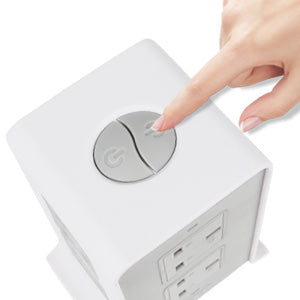 New Design-Save Energy
Equipped with 3 independent switches,can controls each layer of outlets and USB ports separately.
If you don't use it for a long time, you can switch off it for saving energy and reduce the extension cables overheat
Top left button control upper layer sockees. Top right button control USB ports and lower layer sockets.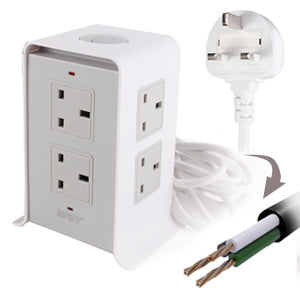 Technical Details
8 Way Outlets
Rated voltage :AC 230 V
Rated current :10 A
Rated power : 2500 W
4 USB Charging Ports
DC voltage for USB :5 V
DC current for USB : 2.1A 
4 USB : 2*2.1A + 2*1A USB ports
---
Awesome tower outlets!
The USB ports charge and 8 power slot are PERFECT! It saves me bunch headaches to get extension cord. Its quality is out of expectation at such price!