---
---

NPET T20 One-Handed RGB Mechanical Feel Gaming Keyboard
Designed for Gaming Unique key layout, make further optimization on the original basis, and match the player's operating habits in the game.
Optimized Key Functions: Turn on the arrow key mode to enjoy the secondary key function plan for gaming. Specifically for PUBG, Fortnite battle royale games!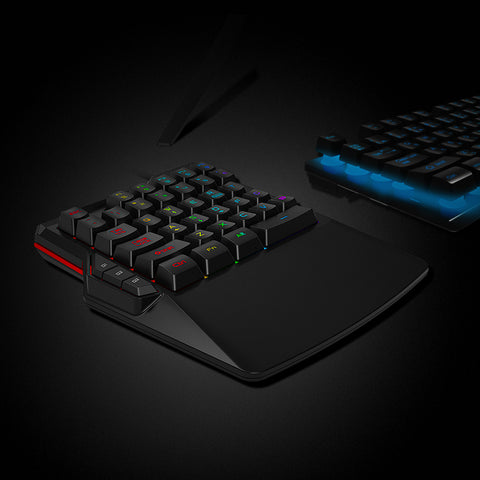 Small Size for Convenient to Carry and Long Service Life
The one-handed gaming keyboard bring you the best mechanical feel experience. These switches trigger fast, 60 million times keystroke test, enhanced durability and tactile feedback so it is perfect for gamer. Additional, not only easy to carry but also saves space because of its small size. Water resistant keyboard prevent damage from spilled drinks or coffee.

Full Programmable Keys Included 3 Macro Side Keys
This keyboard designed with 3 programmable macro keys, binding multiple commands and activating them immediately is simple and quick, located on the side for operating easily. In the middle of battle, you can save precious time by macro keys. Also each keyboard is equipped with a Keycap Kit. Free with keycap puller, easy to clean when you spilled drinks or coffee by mistake.

100% Anti-ghosting key with Reset keys and Ergonomic Design plam-rest
All keys are conflict free (n-Key Rollover), 38 Programmable Keys and 3 Macro keys for key action recording for a Flawless Gaming Performance. Ergonomically designed wrist-rest section, offering great support. Keyboard with large hand palm rest area suitable for left hand and right hand players, allows you to use it with less strain. What's more, it's convenient for players by press FN+Reset to back factory setting.

Customize your gaming keyboard
Set your launch codes, to take your gaming to the next level. 38 programmable keys binding multiple commands and activating them instantly is simple and quick. Not only for games, also suitable for your particular job. Please follow the steps in the instructions to customize, you can easily change the key binding by downloading driver. The firmware has been updated, please download from our official website to update.

8 LED backlight modes can be adjusted
T20 One-handed keyboard supports drive-free mode switching of 8 colors light effects. 8 LED backlit modes are selectable with 16.8 Million Colors FN+F1: change backlit mode (Cycle breath, Constantly, Response, Comet tail, Single water, Flow water mode) FN+F2: change backlit color(7 colors). FN+F3: turn on/off the backlight. FN+F4, decreasing brightness. FN+F5: increasing brightness.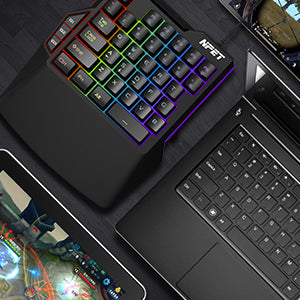 One-handed gaming Keyboard With Broad Compatibility
The One handed Mechanical Feel gaming keypad compatible with Window 7/8/10, XP, Vista... USB Connect, Plug & Play. But it can not be programmed in Mac OS system. We provide friendly quick service. Free resend or refund for quality problem.
---
$15 bucks...................
This thing is AMAZING and shoot out to Dan for teaching me more to do with it.
Absolutely AMAZING keyboard with virtually unlimited possibilities!
In my job, I very frequently use a lot of the common keyboard shortcuts, like copy, paste, undo. Most of these require the use of the Left-Control key. This has never been a problem, except for recently when I sustained an injury to my left pinky finger, which would normally be the one to press Left-Control. I was looking up some options, and according to Taran from Linus Tech Tips, I could use an entire 2nd keyboard for Macros only. I would just have to configure each one, not to mention learn a scripting language, and I've never been very good at coding. Then I found this keyboard which advertised "38 Programmable keys". For $17, I figured it's worth a shot. Once I got it, I had to download the drivers as mentioned in the instruction booklet, and once I did, I found the interface was INSANELY easy to use! No scripting or anything like that is necessary. Just name a new Macro, click Record, press the keys, and click Stop. That's it! It can already see how much easier this will make so many tasks, even once my finger is healed. I am already so glad I got this!! And I just found that the software to record Macros is so much more amazing than I thought.. I thought that you can't set mouseclicks, but if you right-click in the Macro key list, you absolutely can!! You can set X and Y coordinate changes, and then insert mouseclicks for Left, Right, and Middle button!