---
---

NPET MP02 Large RGB Gaming Mouse Pad
This cloth mouse pad also has integrated RGB lighting. Plug and play, no driver required, one-touch to control 12 light modes.
Super silky nano-textured surface for lightning-fast mouse moving. 10,000+ professional gamers find it enhanced their gaming performance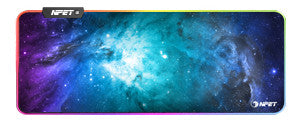 31.5 x 12inch RGB Large Gaming Mouse Pad

Washable & fade prevent the surface mouse pad

Organize your desktop, improve work efficiency

Nano-textured surface enhances in-game response

Non-slip rubber base, to ensure stay firmly in place

Durable stitched edges, much more durable and longer-lasting

One-touch control, powered by USB and no driver required

Mousepad with 7 static light modes and 3 dynamic modes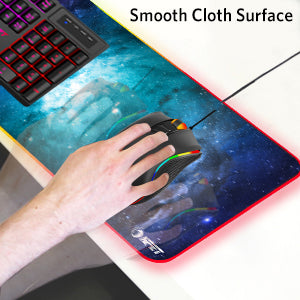 Smooth Cloth Surface Mouse Pad
The mousepad designed with superfine fiber braided material, the smooth surface allows more accurate mouse movement. Optimized for fast movement while maintaining excellent speed and control during your working and gaming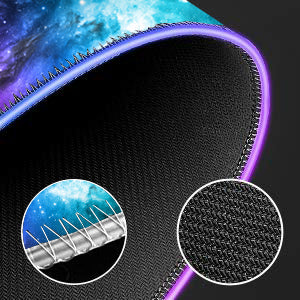 Thick and Neat Locked Edge Mouse Pad
Z-shaped thick locked edge,multi-layer protection no fluff, no delamination, long-term use will not be degummed warped edge. Non-slip Rubber Base Mouse Pad. Even if you swipe the mouse hard, the pad stays in the same position
Washable & Fade Prevent Surface
Made of nano-textured material which has a great locking-color effect, this gaming mouse pad can be easily cleaned with water for continuous use if you spill the coffee, cola, tea or juice on it by accident. And it will not fade with repeated cleaning. Highly reusable and designed for long-lasting use
Convenient and Easy Design Mouse Pad
One-touch to change the color. Color Switch Button, click to switch the light mode (looping 10 lights modes). Long press 3 seconds to turn off the light, and click to turn on the light, energy conservation. A detachable USB cable, easy to carry the mousepad
Light up Your Gaming Setup
It comes with 9 static light modes and 3 dynamic modes, offering you a distinctive feeling and passion when enjoying different games. Lights up your desk without needing another light, the filament is not an eyesore. The RGB trim is quite bright but not deter from viewing the monitor
Enhances Gaming Performance
Friday night is finally coming! What's the easiest way to get rid of the work burnout? Certainly sitting in front of your desktop and playing games with your friends. Nano-textured surface promotes mouse gliding and enhances precision, giving eSports Pros an extremely comfortable gaming experience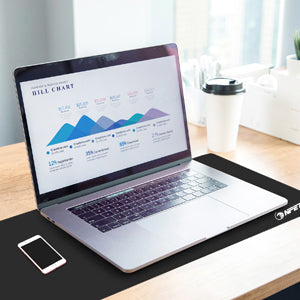 ---
Works fine... until about 1 month later
I had bought one mousepad before this one from this same company. The mouse pad had worked fine until the chord had gotten stuck inside it, so I bought another. And on this one, the rgb just didnt work after a while.
It worked perfectly fine.
Feels and looks pretty good. You cant customize the color of the lights but I enjoy it nonetheless. A great purchase.
Comfortable and smooth.
My son likes the slow glowing (breathing) mode the most. Looks cooler than in the video. Very thick and durable. Definitely a good purchase.
Good mousepad
It cleans easily and I can use my mouse all over the pad. But if you don't want the RGB Light on when your pc is on then you have to unplug it.
It's a cool mousepad
Really nice quality, the pad rolled out perfectly flat and lit right up once plugged in and turned on. My kids love the multiple light, and thought it matches their Xbox perfectly.