---
---


NPET M70 gaming mouse, more speed and more accuracy!
The NPET M70 gaming mouse is a superbly designed highly customizable wired gaming mouse. The mouse is designed for eSports Gaming Pros who demand the very best performance. The Gaming Mouse is elegantly and comfortable thanks to a contoured smooth ergonomic design and offers smooth and precise movements due to its high precision sensor. This makes the mouse perfect for long-lasting gaming sessions providing maximum comfort and support.
Polling Rate: 125Hz/250Hz/500Hz/1000Hz

Default DPI: 800/1600/2400/3200/4800/7200

Wired gaming mouse for PC / laptop

16.8 million color fancy cool LED backlit

100 inch/s mouse movement speeds, 20g acceleration

Durable TEFLON feet pads for smooth and accurate movements

30 million times keystroke test, 3 million times wheel& switch life

System Requirements PC with USB port Windows 10, Windows 8, Windows 7, Windows Vista and Windows XP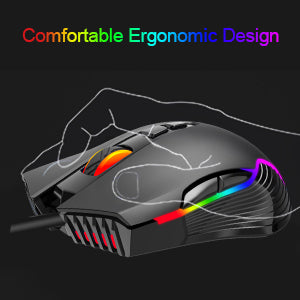 Comfortable ergonomic design mouse
Symmetrical & streamlined design provides a comfortable claw-grip design, long-term use without fatigue, gives you an extremely comfortable gaming experience the whole time. Top choice for computer game players to keep your grip Firmly during game play. Excellent cool wired PC gaming mouse for casual gamers.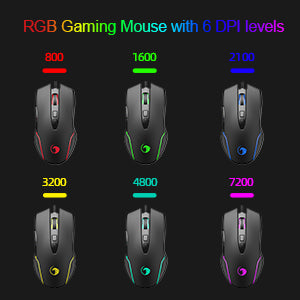 Dynamic RGB lighting effects
Upgraded version of NPET M70, with Chroma RGB lighting, up to 16. 8 million colors to fit your mood. Easily shut on AND off the backlight or change the color mode with the convenient switch on the bottom. Adopts an impressive optical gaming sensor, ensure a quick switch for different games.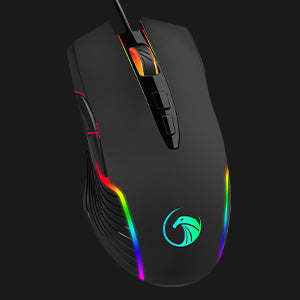 Enjoy an exciting experience and unlock your potential
The first-class laser sensor in conjunction with the Omron micro switch for this professional gaming mouse can achieve excellent accuracy, tracking speed and consistency, and a variety of styles of games can be well controlled. The mouse is designed for eSports Gaming Pros who demand the very best performance.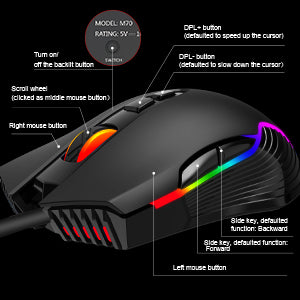 Customize to your advantage
Support macro editing, 7 mouse buttons can be programmed with NPET easy-to-program gaming software. The Rapid-fire button gives you the edge you need during those intensive FPS battles. Just play with precision and flair. Offering on-the-fly DPI and profile switching with DPI Color indicator so you always make the right moves and can focus on your gameplay.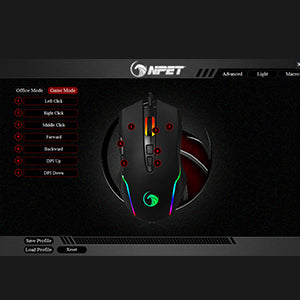 Full programmable gaming mouse
The wired laser 7200 DPI gaming mouse comes with custom driver software with 7 programmable profiles, including basic settings, DPI switching and colorful LED lighting effects. The lighting effects are adjusted by the brightness level and breathing speed. If the mouse stays out of work for 8 minutes, it will turn to power saving mode, press any button to restart it.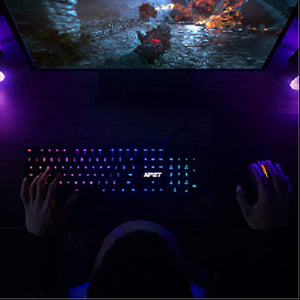 Best Gaming Mouse
You will be amazed by the unmatched comfort, lethal accuracy and killer precision of our durable, desktop and laptop pro gaming mouse! It's also a stellar mouse for daily work. Works great with games that have need of a lot of buttons at your disposal: World of Warcraft, Fortnite, Star Wars games, any FPS, MMORPG, MOBA or MMO games.
---
Comfortable and affordable
This mouse is quite comfortable, being very ergonomic with great feeling buttons. However, after only around 3 months of use, there's a major issue that occurs sometimes. When I press left-click even a little bit too hard, it stops registering the left-clicks and instead registers it as pressing the right side button. This can be very annoying for games where I use the side button as an alternate input, as all of a sudden trying to left-click does something else entirely.
Great mouse
Good quality, really cheap, and good for gaming.
Great but it broke
When I got this mouse it was probably the best mouse I ever had but after about a month or 2 the mouse just stopped clicking well. When I have to hold down the mouse It just wouldn't register resulting in my death. I don't know how to fix it and even if I try I will have to break the mouse because there are no ways to open it with like a screwdriver or something. This was probably the best mouse I ever had until it stopped working. If possible I would like someone to respond to this telling me how to fix it if not I'm going to have to buy a new one when I just bought this in like October 2021 and its December 20 2021. I'd like at least some kind of answer. Although a great mouse I totally recommend buying it It just broke on me for no reason :/
it is so much better.
It's light, not big but not small either. And it fits in a cowgirls hand. The side buttons are really responsive and smooth. Very good mouse!
So far it is working well.
I love the various colors displayed on the mouse when its turned on. It was an alright product for its price. I'd recommend to a casual user.