---
---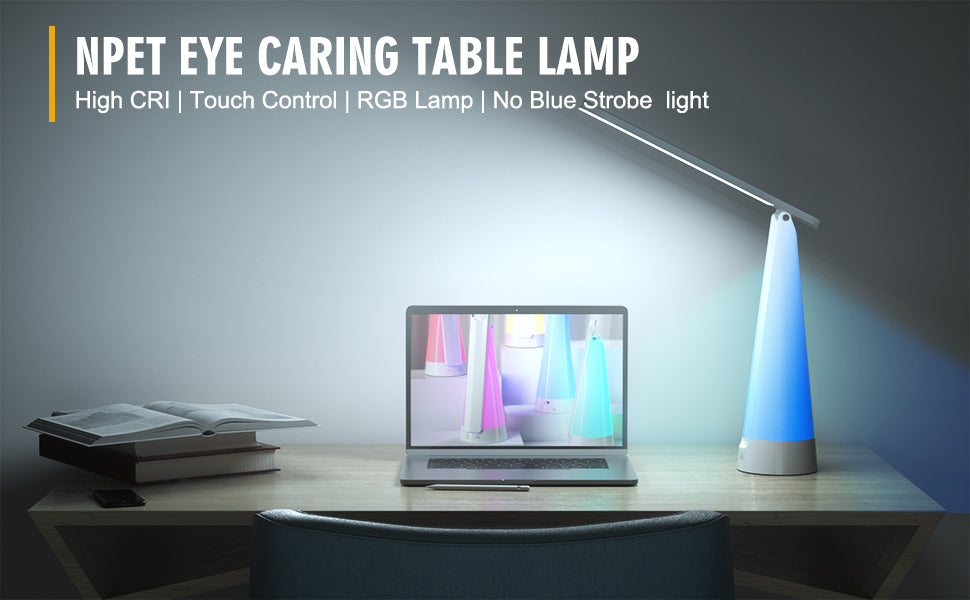 Multi-Functional Eye-Caring Desk Lamp
Professional eye carring lamp, Protect eye health is much more important than ever. NPET strip to provide a healthy leading lighting product.
NPET desk lamp bead is close to natural light, and the brightness can be adjusted to meet the needs of different scenes, providing excellent lighting experience for work.reading.learning
All-in-one polycarbonate plastic case provides a friendly and gentle touch experience, while sensitive touch buttons make this folding led desk lamp easy to operate and turn on in the dark.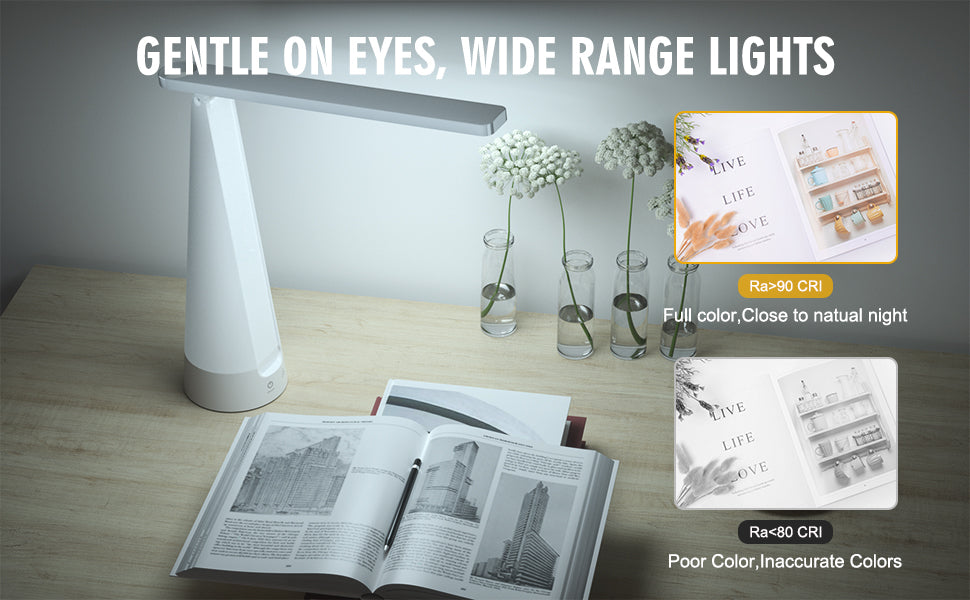 High CRI with Realist Soft Light
In order to get close to natural light, we adopted the new CRI90 solution and all-light sensitive LED lamp beads to create soft light close to nature, Avoid eye fatigue caused by prolonged exposure under light.
Strict quality control makes npet eye protection lamp with excellent product performance, long time use without burning and attenuation, accompany every moment of struggle
Portable design suitable for more occation such as bedroom/reading/working/office.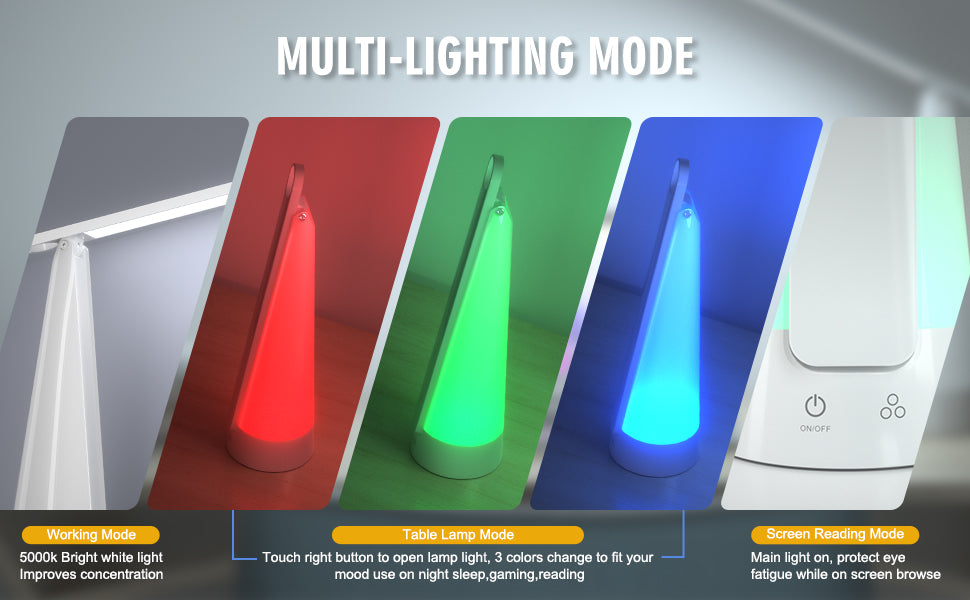 Variety Lighting Models and Stepless Touch Control Color Options
Working mode with 5000k natural light enable focus on office working, High CRI avoid eye fatigue.
Fold main light to active side light can work as lamp for bedroom(RGB dimmable color options), Make you impressive with dimmable colors which feel relax.
Under fold position open main light to active screen reading mode, generate high soft natural light for home work reading.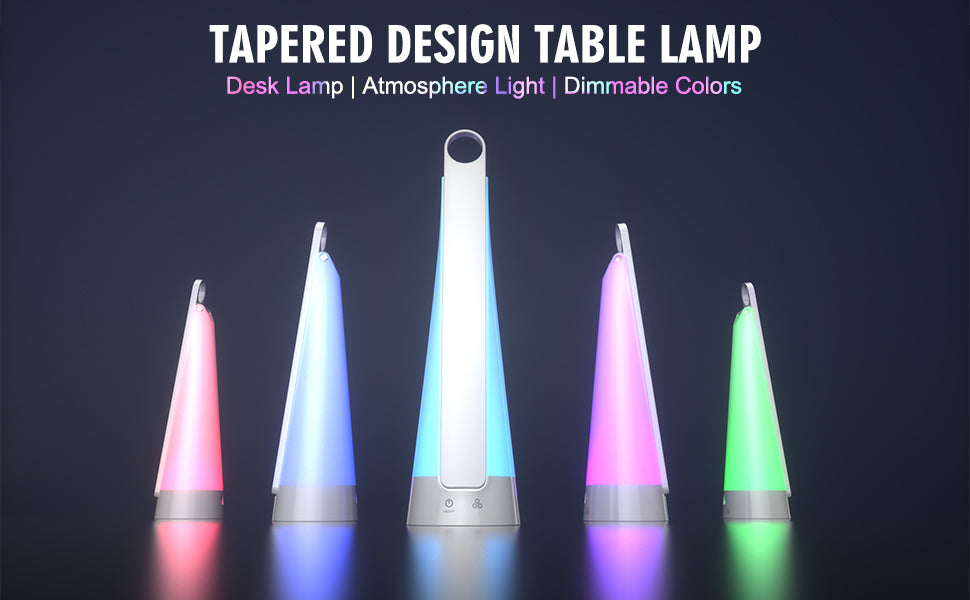 Mood Enhancing Color Light
Simply tap the touch sensitve right button for 2s to change differant colors to active side light lamp. We provide differant brightness level from blue/red/green,The pleasant light is ideal for relaxing
360 degress lighting.It can be used as a gaming ambient light, a desktop computer light, or as a warm bedtime ambient light on your nightstand. No matter where
Delight family and friends with a stunning,vibrant,dynamic display between blue/red/green,pick and pause on your favourite color and brightness level.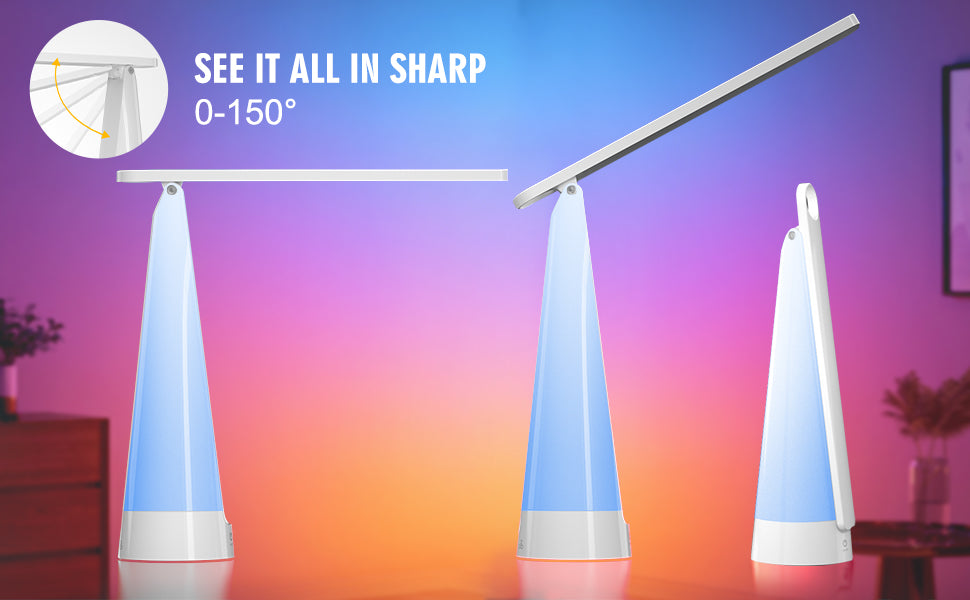 From 0-150° Adjustments See It All In Sharp
75% Wider Irradiation Range.0-150° Wider Angle Adjustment.
Wide Angle adjustment can be used as video light, and can easily cope with video conferencing when working at home, showing the most realistic and perfect face visual to your colleague and make impressive.
Features:
NPET Design Optical Lens
Full seperate energy saving LED provide a natural lighting effect, creating a comfortable and realistic lighting experience, reducing eye fatigue caused by prolonged exposure to light.
Fully Flexible in Lighting Angles(0-150° Angle)
100,000 laboratory tests ensure a long period use, Built-in metal chain provides smooth closure experience, much durable and usefull.
Sensitive Touch Control
Touch operation allows easy switching and color adjustment
Anti-Slip Base Lamp
Non-slip lamp base

Taper structure, Strong stability
---