---
---

NPET K80 89-Key Compact Mechanical Gaming Keyboard
One Tough Compact Mechanical Gaming Keyboard - Perfect for whatever battle you might face.
Not only is it over-engineered and built to take a beating, but also has great ergonomics and a space-saving design delivering a pure, fluid gaming experience. No matter how long you type or how intense your gaming marathons are, you are always comfortable.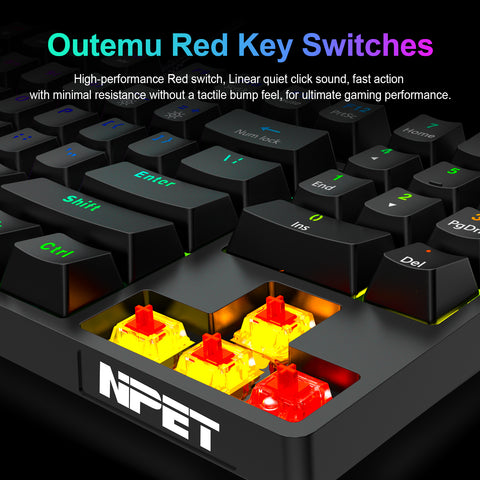 Outemu Red Key Switches
Red MX Equivalent Switches play brilliantly with the perfect keystroke design ultra-durable keys tested to 50 million keystrokes. Keycap puller for cleaning keyboard more easily.

The Compact 89-keys Space-Saving mechanical Keyboard Design frees up a workspace on your desk without sacrificing performance and comfort during your marathon gaming sessions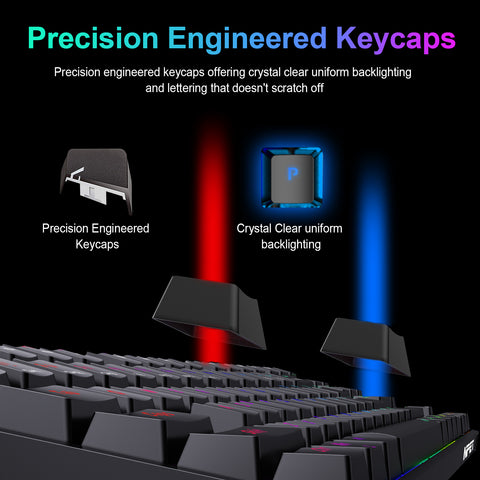 Clear and Homogeneous Keycap
Precision engineered keycaps offering crystal clear uniform backlighting and lettering that doesn't scratch off
Professional Gaming Keyboard. UV coated keycaps and injection laser carving ABS keycaps design, the letter of characters never fade. Anti-sweat, prevents keycap damage, enhanced durability, and tactile feedback. Thick and firm stainless steel base plate, long service life, and never deforms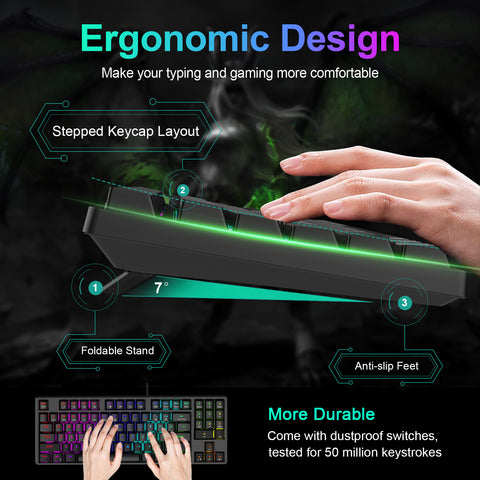 Ergonomic Design Gaming Keyboard
89 keys US layout keyboard with the help of a drain hole under the bottom, which can prevent damage from spilled drinks or coffee. Ergonomics arc keycap, smooth lines, give you a comfortable feeling and anti-fatigue when you gaming or typing. 2 folding stands to keep your hands in a more comfortable typing position, which will improve your typing speed, accuracy, effectively relieve your finger fatigue & ensure all-day comfort.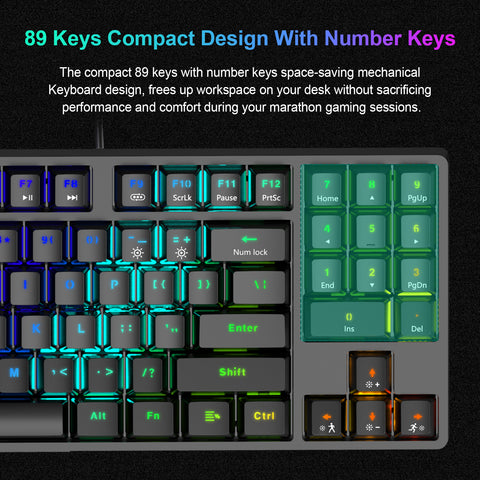 89 Keys Gaming Keyboard with Numeric Keypad
The excellent number of input efficiency with K80 gaming keyboard.
A keyboard is a must-have tool for anyone who spends many hours typing to do office work every day. You will get better at typing speed, accuracy and enjoy your long time working through NPET K80 gaming keyboards, as well as spend less money. Gaming keyboard performance gives gaming players extra dominant position and unique competiveness.
Professional Mechanical Gaming Keyboard
8 multimedia function keys, enhance efficiency during typing. 3 Customizable Chroma RGB Lighting modes(without driver), you can customize your favourite by yourself, just press FN+CM1/CM2/CM3. 3 fixed modes, RTS, FPS, and office mode, It fits your game background. Change the direction of light flow by press FN+-/+, RGB Backlit Mechanical Gaming Keyboard 21 different RGB lighting modes, The colorful rainbow Backlit can bring you into a great gaming Keyboard atmosphere.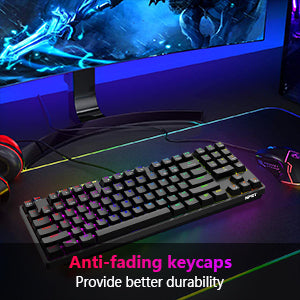 Professional Keyboard for Gaming or Typing
Anti-ghosting all 89 keys are conflict-free key rollover featuring, and a non-slip ergonomic, splash-proof design comes with high-speed corrosion free USB connector for a reliable connection
A keyboard is a must-have tool for anyone who spends many hours typing to do office work every day. So NPET K80 mechanical keyboards are designed for the gamer, office worker, copywriter, programmer, typing teacher, and editors.
---
Question
Can you remove the keys and switch it out with cherry Mx keys
I really like the keyboard.
Mechanical keys are appreciated, cool look and feel keyboard. It also has all the important keys for multimedia and keys like "END" & "HOME" that some keyboards don't have.
Nice enough as a keyboard.
I'm typing on it right now. I like how it is heavy duty and it is thick. Overall, it worth the money.
I am so glad I got this!!
It does feel fine for my needs and probably for gaming. Nice clickiness, ergonomic enough, outstanding quality. Very very good job!
Broken
Mine broke the same month