---
---

NPET K11 2.4G Wireless Gaming Keyboard for Even Better Performance
2-in-1 NPET K10 keyboards have two different usage scenarios - wired and wireless. Fantastic mechanical feeling gaming keyboard, perfect for whatever battles you might face.
High Performance This keyboard adopts a liquid silicone conductive film which has good resilience. Better gaming experience
2.4G Wireless Gaming Keyboard

4 LED lighting backlit modes, breathing

10 Meter wireless distance

Non-slip ergonomic and spill-resistant design

Strong durability, ultra-thin floating keycap design

Plug and play, easy to operate with the USB braided cable

26 anti-ghosting keys, never miss a keystroke during the game

Compatible with Windows 95/98/XP/2000/ME/VISTA/7/8/10 and Mac OS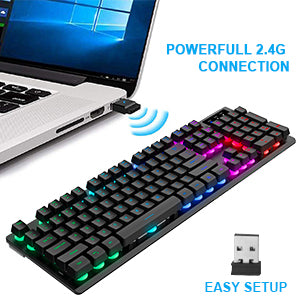 Rechargeable Wireless Gaming Keyboard. The wireless keyboard is made of aluminum alloy panel, which is sturdy and durable. The keyboard built-in 1600mAh battery eliminates the trouble of frequently changing batteries. No operation automatically sleeps within 60 seconds, any key wakes up, which can energy-saving better

2.4G Wireless Transmission Keyboard. Up to 10m wireless working distance, enables the keyboard to achieve long-range wireless control. The USB receiver on the back of the keyboard. Play and plug, conveniently designed for gaming or office or home use. Two working modes, wired and wireless, enjoy the freedom of being wireless while still not compromising performance by going wired

Professional Gaming Keyboard. UV coated keycaps and injection laser carving ABS keycaps design, the letter of characters never fade. Anti-sweat, prevents keycap damage, enhanced durability, and tactile feedback. Thick and firm stainless steel base plate, long service life, and never deforms. Metal and ABS construction make it more solid and reliable. NPET K11 gaming keyboard is more durable than the plastic keyboard, your best keyboard choice

Colorful Illuminated Keyboard. 4 LED lighting backlit modes, breathing(7-color alternate). 3 Adjustable permanent mixed backlit modes, changeable breathing or permanent lighting mode. It can be great for playing the game at night even without light. You can also adjust the brightness and breathing speed of the backlit according to your preference

104 Keys Standard Keyboard. 13 multimedia keys combinations, 26 keys non-conflict, strengthened space key. 2 angle feet on the back of the keyboard can adjust the keyboard height. User-friendly, quickly control, no driver needed. Compatible with Windows 10, Windows 8, Windows 7, Windows XP, Windows VISTA, Mac OS, etc.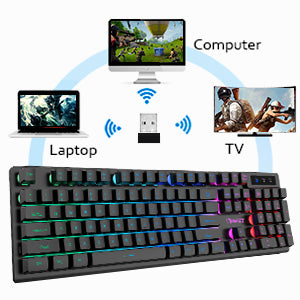 ---
Where's The Mouse?
Keyboard is Great. but no wireless mouse is available.
Now I need 2 USB ports. One for the Keyboard and
one for my mouse.
Gaming Keyboard
I bought my keyboard through Amazon, I was looking for a lit raised keyboard and I'm 65 and have trouble with my hands and wrists. This has worked out very well for me. Not overpriced and very reasonable, I'm happy. It's very quiet, my husband hated that my old one was nosy, that has stopped and that makes me happy. Great little company and you can get great service. I'll buy here again for sure!
Janna W.
Solid Keyboard with slight drawbacks
I have to say that 90% of the experience is great, with only a few complaints. Build quality is solid and even though the strokes are a bit on the loud side i was working on one of the loudest boards on earth before this so i could care less. My complaints are below, a couple may even be fixable.
- RGB lighting doesn't have a simple white option. (I want a more mature look to my setup than this board offers)
- Big spaces between keys (it seems like the keys could have been bigger without drawback. I'm not used to it yet, but am mistyping a decent amount)
- No dedicated volume controls (I could give a damn about media controls but the volume was something i had on the $10 amazon board from 8 years ago and I miss them)
Could a driver update or something not add a white light option?
I like it!!!
I received the NPET K11 keyboard as birthday gift from my wife. At first I didn't know how to feel about it because I had never heard of NPET. After all, she has my Razor keybord using it for her laptop because she likes the clicky sound when she types, and she is not a gamer by the way. The NPET K11 has a super close mechanical feel to the keys without the click. The quality is of this keyboard is very sturdy and crisp. I really like the LED's ability to illuminate through the keys well. Although the keyboard is not programmable it does have nice color combinations that can be cycled through with the touch of a button as well as breathing effect by holding down the FN key and touching the LED key. It also has a WIN key lock ability so while you are gaming you don't accidently hit it and shoot yourself back to the desktop in the heat of whatever you might be playing. The FN "function" is labeled on each key so it makes it easy to know what the function commands are. The only thing that I didn't particularly like about the keyboard is that the LEDs will time out after 60 seconds of idle time and I haven't found a way to change it to a longer time, or "always on" so when I am playing a sim racing game that it can be illuminated for when I need to quickly locate and press a key in the dark. (I don't prefer to play with the lights on.) Having said that, I highly recommend the NPET K11 if you prefer a wireless keyboard. The price is excellent! The quality is outstanding! I also have the NPET M20 keyboard and mouse combo for my son. Those are wired, and the LEDs do not time out. NPET is good stuff!
terrible product
Terribel: I bouth this and plugged it in to charge and the key lights or red on light never cam on; After even 15 hours it never charged. Wired to new computer it never registered as an external device wireless or wired. Simply non-functional. So I sent it back. I got a replacement today and the same problem: it will not charge etc. I ahve tried everything. Don't bother with this device. Manufacturer is in China and has been impossible to communicate with. Junk.