---
---

NPET Insulated Smiling Face Lunch Bag Gray
-Keep your food at an optimal temperature throughout the day to improve food quality and taste with this lunch bag. From hot meals to cold beverages, our insulated bag allows you to enjoy your food any time of the day.
-Measures 9.3*5.5*8.1 inches, made from wear-resistant oxford cloth, ensuring maximum durability.
Lightweight & portable: Easy to foldable and storage

Trendy lunch box: Not only a meal prep lunch bag, but also a fashionable handbag

Large capacity: Enough space for 2 lunch boxes + fruit + milk + tableware

Great gift for birthday, Christmas and Thanksgiving Day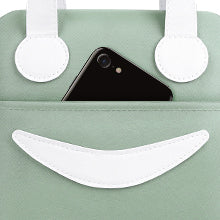 Easy-Access Front Pocket
The large-capacity front pocket is very convenient for you to put your utensils, napkins, phone, wallet, keys, cards and other small stuff.
Close at hand, instantly accessible, no need to fumble aimlessly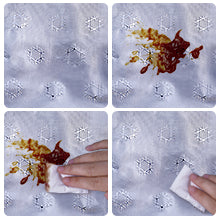 Easy to Clean
The lining is made of aluminum foil, which is dirt-resistant and easy to clean;
If sauce spills in the bag, just wipe it with wet tissue or a towel.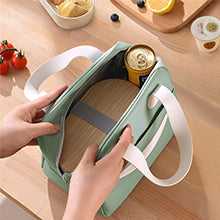 Big Opening
9.3*5.5*8.1 inch. This lunch bag looks cute but has a lot of space inside, which can easily hold containers, fruits, and drinks.
With the large opening design, you can clearly see what's inside, and it's very convenient to take things out.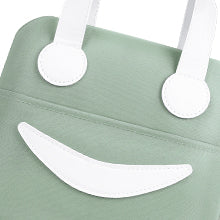 Smiling Face Design
Lovely smiling face design, simple and plain color, giving people a comfortable visual effect;
Going out with this bag will definitely make your day!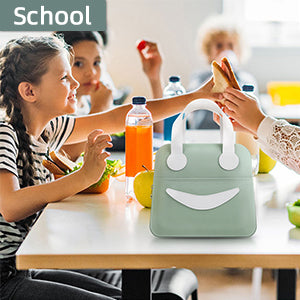 Lunch Bag for School
It's a collapsible cooler bag that fits almost all sizes of lunch boxes. The interior lining was made of food-grade aluminum foil and padded with high polymer insulation cotton, it will keep your food cold or warm when you're taking on the daily grind.
This lunch pack will keep your child's food fresh all day, enjoy fresh food anytime, anywhere, and maintain a balanced diet.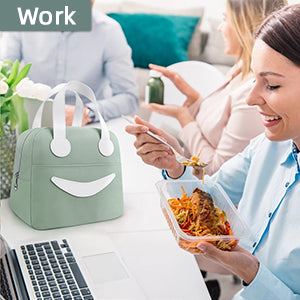 Lunch Tote for Work
NPET lunch bags are perfect to pack your food and lunch containers such as veggies, fruits and dairy. Food and drinks stay cool and fresh all day! It is an ideal choice for people with special eating habits, food sensitivity or allergies.
The lunch bag is very convenient to carry on the way to work. Large capacity allows you to put a lot of things you like to eat. When you are tired of work, just open your lunch bag and enjoy healthy and delicious food.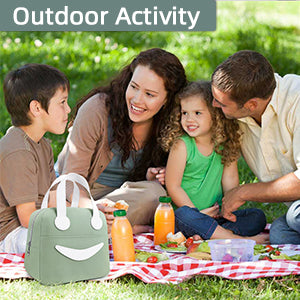 Lunch Box for Outdoor Activity
Spacious lunch tote can be used as a fashionable handbag, picnic bag, sundry bag, suitable for all age groups. It can easily fit all your snacks, beverages, sandwiches, you can pack a healthy snack for your family or have a delightful Sunday picnic.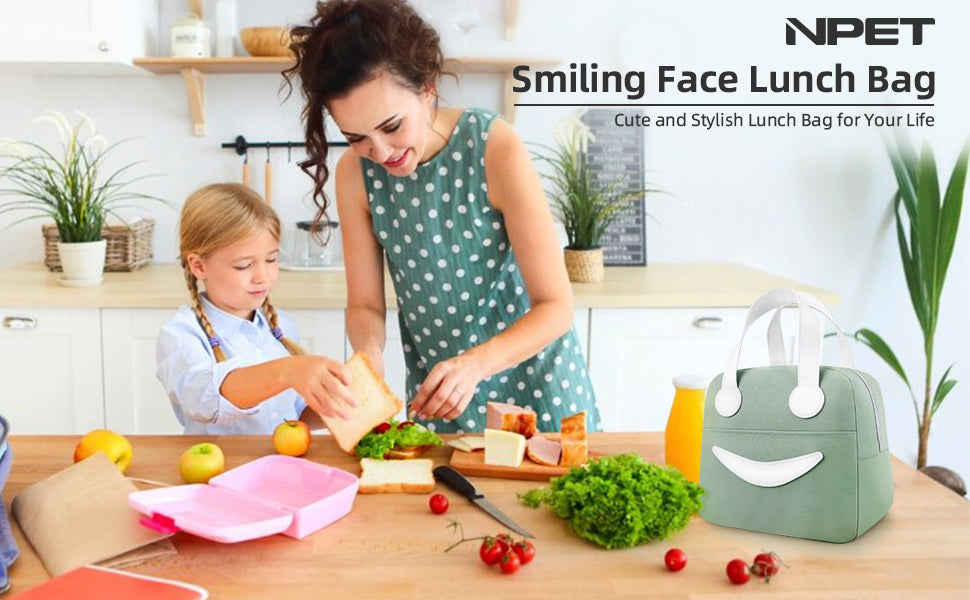 Product Information:
- Material: Oxford fabric
- Size: 23.5cm*14cm*20.5cm/9.4"*5.6"*8.1"(L*W*H)
- Weight: 0.36 lb
- Colors: Multi-color Available (Green/Blue/Gray)
- Gender: Unisex
- Suitable seasons: All seasons
- Applicable occasion: Indoors & Outdoors
TIPS: You can add an ice pack (not included) to the extra space to keep food even colder over longer periods.
---