---
---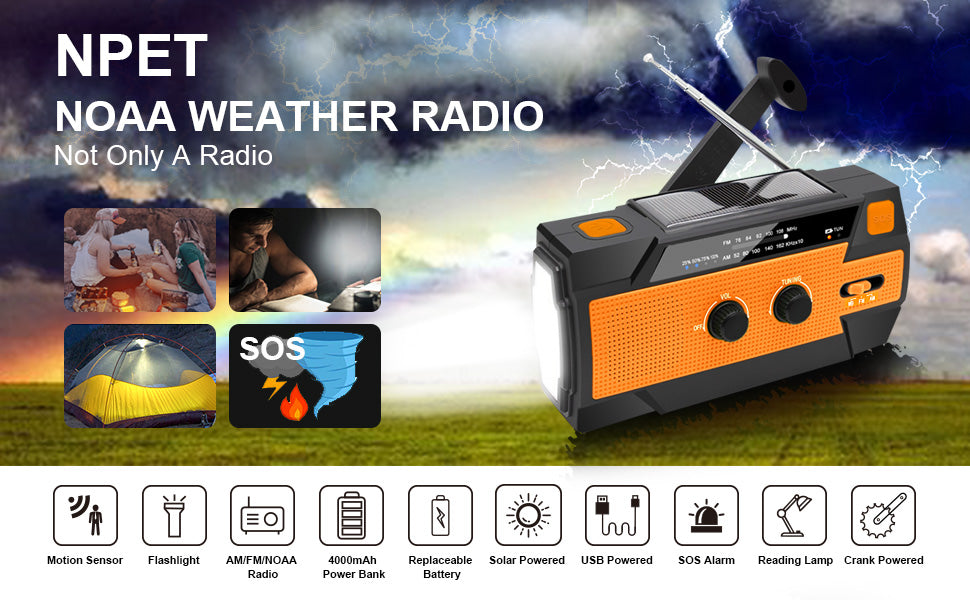 NPET Solar Crank Emergency Radio
In the past, science and technology are not developed enough. We're unable to predict the coming natural disaster and can do nothing during the hurricane, tornadoes and snowstorm season, hundreds of people died. Now, what can we do to change the situation?
Various of weather radio solve the problem that cannot know the coming natural disaster in advance, but when hurricane"Harvey", "Maria", "IRMA", earthquake, wildfire, winter storm came, power outage still create an emergency and prevent us from communicating with others. Anyway, NPET 090P survival radio has resolved this issue. It broadcasts latest weather information, enables you to make a full preparation before hazard weather strikes, also, 4 ways to keep full power never leave you and your loved ones in dark in any emergency situation.
4 WAYS TO KEEP POWER

Solar Radio
Expose the solar panel in clear sunlight to let it charge as efficiently as possible. When the solar panel receives enough power to start charging, the power indicator light will turn red. It is not the main method to charge this emergency flashlight radio but good for battery maintenance and life extension.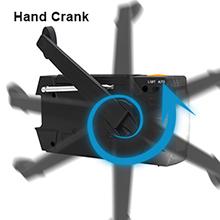 Crank Radio
Turn the handle in clockwise or counterclock wise direction, spin the handle for 1 minute at the speed of 130 rpm. The power indicator light will turn red during getting power. Cranking for 1 minute can get the high beam light lasts for 30 minutes or radio lasts for 6 minutes.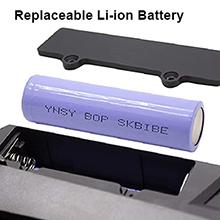 Battery Operated Radio
18650 Li-ion battery can be found in every family and can be easily purchased in the local store or Amazon online store. If you have some extra 18650 Li-ion batteries, you can also use it to replace the battery in your radio. Compare to the built-in battery, it's much more convenient.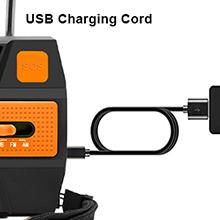 USB Radio
Open the rubber cover on the right side, use the Micro USB cable to connect the input charging port and the wall outlet. The blue charging indicator light will keep flashing during charging, 4 blue lights will stay on when fully charged.

How does it work?
Adding motion sensor, the reading lamp on the noaa solar radio will auto turn on when senses someone passing within 3 meters sensing distance, sensing angle is 135°. When there's no one in the sensing area, it will auto turn off within 30 seconds. With super convenient and energy saving, you will definitely love this emergency weather radio.
How to Keep The Reading Lamp Stay on?
Turn the sensor switch to the LIGHT position and open the solar panel to turn on the reading light. When the solar panel is closed, the reading light will be turned off. Under this mode, you need to turn on/off the reading lamp manually.
OTHER FUNCTIONS

Battery Radio with AM/FM/NOAA Stations
No matter indoors or outdoors, you can listen to music, news, sports through AM/FM stations at your leisure time.
With the function of weather forecast, you can know the coming natural disaster in advance, it allows you to make a full preparation before hazard weather strikes.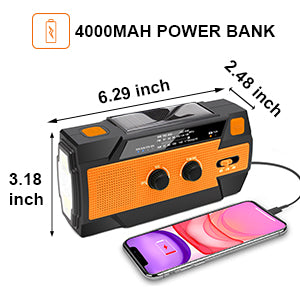 4000mAh Portable Power Bank
This flashlight crank radio with phone charge can provide power to your mobile phone up to 50%, enables you to keep in touch with your family and friends during the horrible hurricane, you can also receive latest news about the situation. As a must-have emergency preparedness items, it's a bit larger than your phone and suitable for all ages, convenient to carry.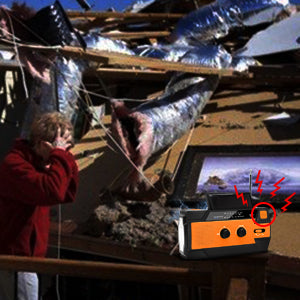 Solar Weather Radio with SOS Alarm
When you're trapped, it's important to preserve your strength for being rescued, instead of shouting for help by yourself, the loud and bright SOS alarm on this emergency flashlight radio will make people notice you and find your location.
3-Modes Flashlight for Different Occasions
Compared with other noaa weather radios that only have 1 flashlight mode, we upgraded it with 3 flashlight modes-far beam mode, dipped beam mode, far beam & dipped beam mode. It enables you to make a choice for your need. Flashlight with strong bright light is great for you to find your way at outdoor or find something when you stay indoor.
It is a radio, but not only a radio. You can take it with you for a camping, hiking, fishing...Scroll Up to Click to Purchase
---