---
---

NPET EK20 1.8L Electric Hot Water Kettle
With 1.8 liter design of the water boiler kettle electric, it's quick and easy to enjoy tea, pour-over coffee, french press coffee, hot chocolate, soups and more in minutes, the blue light will on when heats up the water. It looks nice in kitchen, office and dorm, you can use it every day in everywhere.
Made from high quality borosilicate glass, 100% BPA-FREE

Automatic shut-off and boil-dry protection mechanism

Non-heating handle and one touch switch

Cordless technology allows for hassle-free pouring

1.8L capacity satisfy all you needs 8 cups of water

Easy to clean with wide mouth design

Faster than a microwave, safer than a stovetop kettle

Built-in mesh filter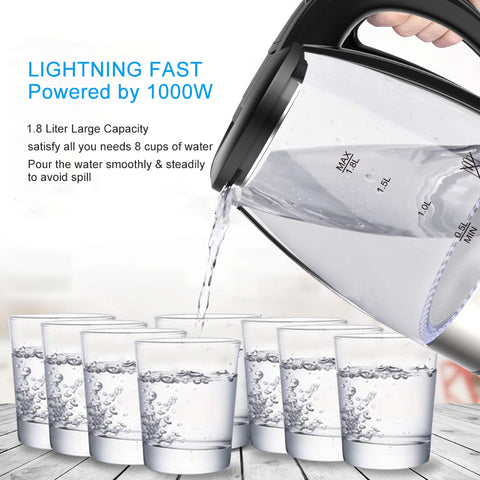 1.8 Liter Capacity
1.8 liter large capacity means you can heat enough water for one cup of tea or a large batch of hot chocolate for your family. Perfect for serving friends, colleague, or yourself
A soft blue light gently illuminates to let you know boiling water is on the way.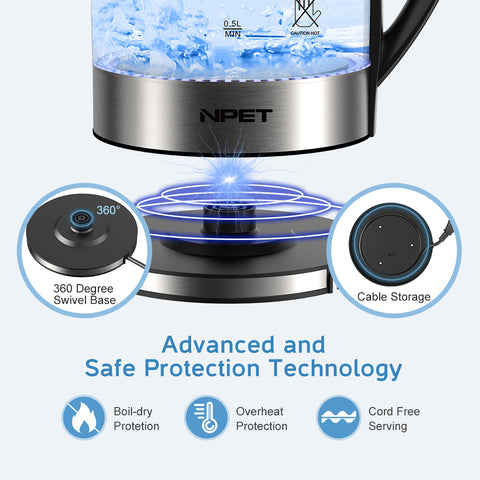 Boli Water Quickly and Easily
With 1000 watts of power, this electric kettle boils water quickly, allowing you to enjoy your tea, coffee in minutes. Ultra-fast boiling saves you time.
It takes 5-6 minutes to boil 1L water, takes 10-11 minutes to boil 1.8L water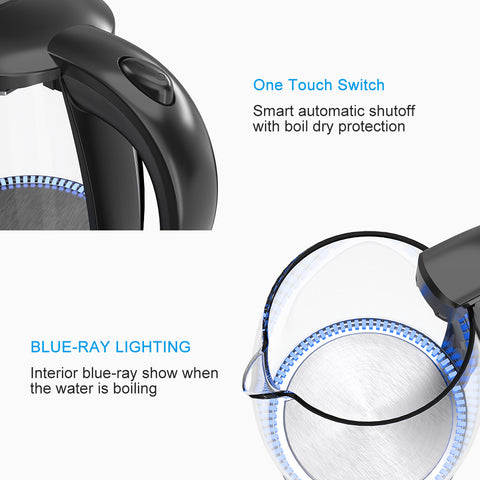 Auto Shut-off and Boil-dry Protection Mechanism
This mechanism activates within 30 seconds after the water is fully boiling. When the water reaches its boiling point the kettle will shutoff automatically. You can also stop it manually, whenever you want. Boil-dry safety feature where it turns off if it detects there is no water inside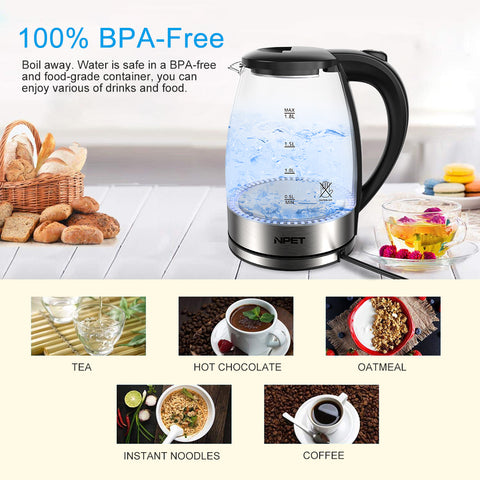 Cord-Free Convenience
A convenient cord wrap below the base keeps the power cord neatly tucked away. The kettle detaches from the heating base for cord-free convenience suitable for your kitchen, dinning room or office space. The compact shape and cord wrap system help you to save space when it's not in use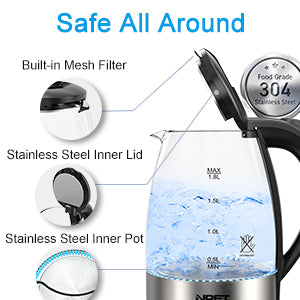 Food Grade Material
Super quality-Made with the finest quality. It includes 304 stainless steel, BPA-Free and Borosilicate Glass which resists scratching and scuffing to last long.
The built-in mesh filter prevent burns when you pour out the water. You can pour the water smoothly & steadily to avoid spill.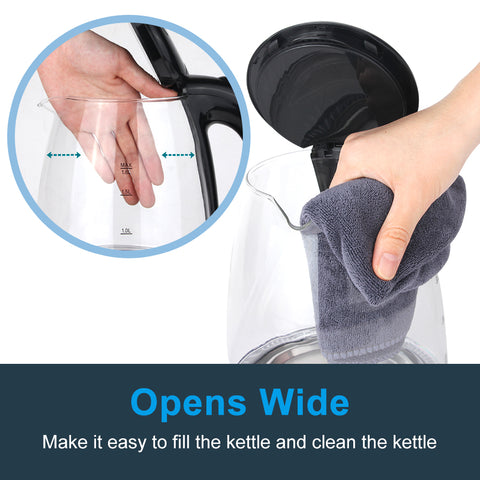 EASY TO CLEAN
Wide mouth design means easy filling and cleaning, it allows for easy access to clean inside. As for how to descale your kettle, fill it with vinegar and water, boil it, and let it soak for 2 hours. Then wipe away the scale with a cloth
Product Specifications:
Material: Borosilicate glass, Food-grade 304 stainless steel, BPA-free
Capacity: 1.8L
Operating Power: 1000W
Voltage: 120V
Hertz: 60HZ
Item Dimension: 8.46*8.26*6.22 inches
Weight: 1.65lb
---
I'm absolutely loving it.
I recently purchased an electric kettle on Amazon from you guys. Everyone keeps asking me where I got it from and my girlfriend absolutely fell in love with it. I showcase and verbally recommend your products to all my friends and family members.
Stopped working after 3 months!
Loved it... at first! After 3 months, auto-shutoff switch wouldn't work & it kept boiling. The HANDLE was SO HOT that it BURNED ME! I was angry at the wasted money - too late to return it to Amazon - & adapted to checking when I heard the water boiling. After 2 DAYS, IT STOPPED WORKING ALL TOGETHER!
NOW? IT IS A HUGE WASTE OF MONEY!!!!! I NEED A KETTLE THAT WORKS!!!!!!