---
---

A good life partner for you and your pets
NPET automatic pet feeder provides a closer relationship to you and your pets with recorded voice. Automatic feeding with set time and portions help you to feed your pets regularly and make him feel safe and comfortable.
6L large capacity feeder volume

BPA-free ABS material

Feeding type: manual/automatic feeding

Up to 6 meals per day, 1-50 portions per meal

Built-in infrared sensor for food shortage alam

Removable hopper and feeding tray, easy to clean

Double powered by wall plug and 3pcs D size batteries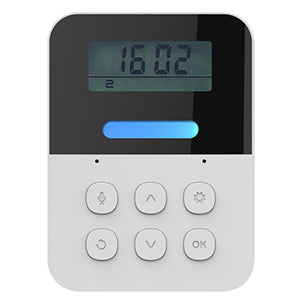 Easy-to-operate Control Panel
Easy to set up time, meals and portions with LCD screen. Available to record 10s voice massage(e.g. Hey! Tom, come here. Good boy!) which is a good way to interact with your pets.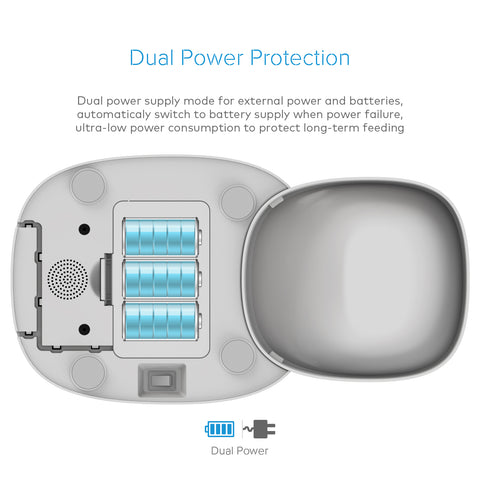 Dual Power Supply System
The NPET dog food dispenser is wall powered and/or battery-powered. In case of a power outage, the feeder will continue to function on 3 D-size batteries to assure your pet gets fed (batteries not included).
Easy to Clean-Separate Assembly Structure
6L large capacity hopper. NPET premium pet feeder has a cover knob to prevent pets from knocking down and causing pet food spilled all over the place. Please hold the feeder body when you move it to other places.

 Food Hopper Capacity

6L/203oz

Operating Temparature

-30℃-50℃ /-22°F - 122°F

Dimensions

7.7 x 14.1 x 14.2 inches

Weight

1.8KG/4lb

Food Size

0.2-0.6 inches

Portions
Min: 5g(1 portion)
Max: 250g(50 portions)
NPET automatic pet feeder is perfect for you to handle the pet's feeding issue. It allows your pets to adjust the eating habits and no more morning call, which let you have a nice sleep.
What's included:
1 x Automatic Pet Feeder
1 x Power Adapter
1 x User Manual
1 x After-sale Card
Tips:
1. D-size batteries are NOT included.
2. The pet feeder is suitable for small pets.
3. Please hold the feeder body when you move it to other places.
4. Suitable for dry food only, with the food pellet size ranging from 0.2-0.6 inches in diameter can ensure that food is dispensed smoothly without jamming.
5. Please use an adapter and battery supply at the same time, which can ensure the feeder works well when there is a power outage.
6. For your pet's health, please wash the hopper and feeding tray regularly. The feeder body should not be filled with water. Please use a wrung wet cloth to wipe.
---