---
---
Save 60% on a Resistance Band Set when you purchase 1 or more massage gun.
Coupon Code: MG001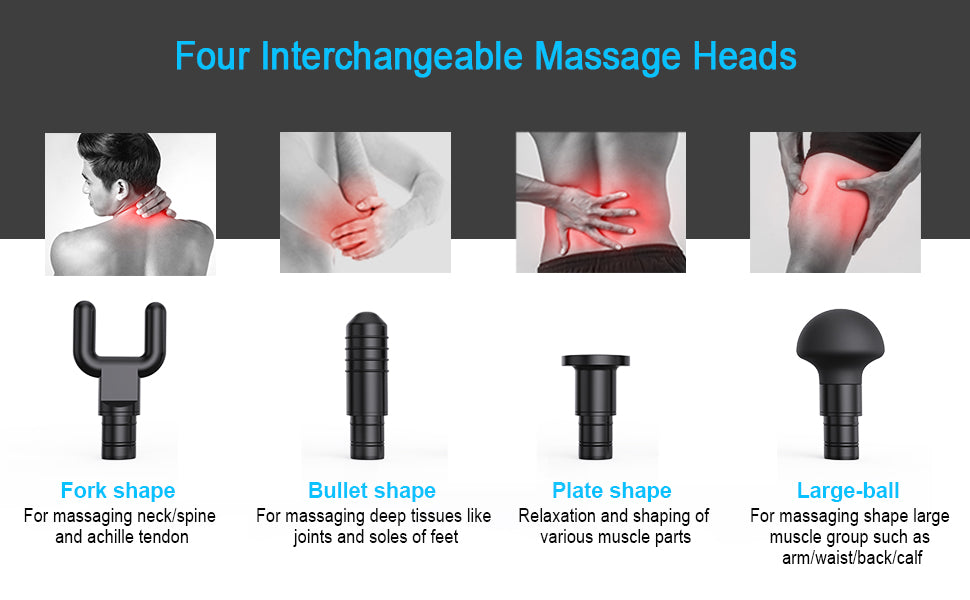 Features for Deep Tissue Massage Gun:

Easy to use deep tissue massager quiet massage gun, the percussion massage gun allowing your body to relax, release and recover faster than ever for professional athletes, gym-goers, with chronic pain, or just came home after a long day's work.


Multi-gear slap strength is available, which is suitable for a wide wide range of people

Humanized handles design, small and exquisite. Hold it comfortable and easy to use.

Visual gears display for customer to choose.

High-quality driving motor and firmly fixed structure make you relax and enjoy yourself in a noise-free environment.

Optional massage heads for you to relax each part of body.

Large-capacity battery cells with longer life.

This deep tissue massage gun is a portable massage tool that provides real results, allowing your body to relax, release and recover faster than ever after workouts.
Accelerates recovery & muscle repair

Increases blood and lymphatic flow

Relieves muscle spasms and stiffness

Muscle fatigue, pain, tightness, soreness, and knots

Natural stress relief

Myofascial release 
Product Specification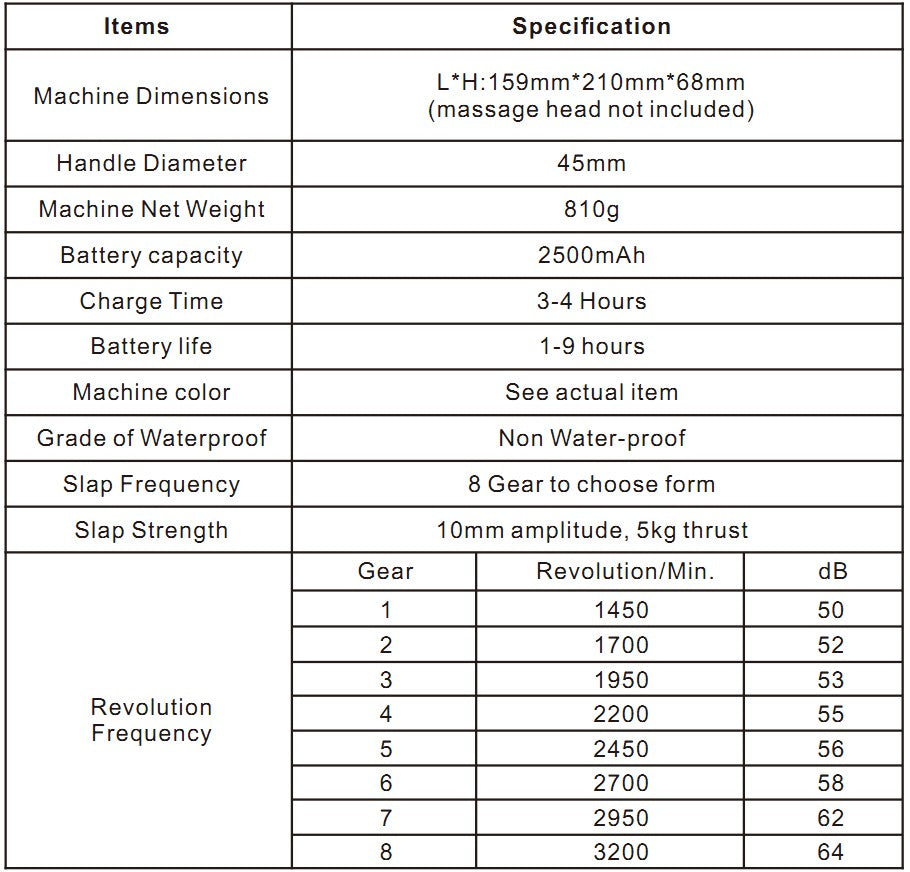 How to install the massage head?
Step 1: Switch off the device
Step 2: Push the massage head into the connecting port
Step 3 (change heads): Hold the massage head firmly and put it out while twisting
Note:
a. After the massage head is replaced, if there is a strange noise from the machine, it's because the massage head is not installed to the end. Squeeze the massage head slightly to install it.
b. If the Percussion Massager head cannot be smoothly pushed into the machine, it's mostly caused by the misalignment of the silicone fixing ring
Battery Capacity: 2500mAh

Charge Time: 3-4 hours

Grade of Waterproof: Non Waterproof

Slap Frequency: 8 gear to choose form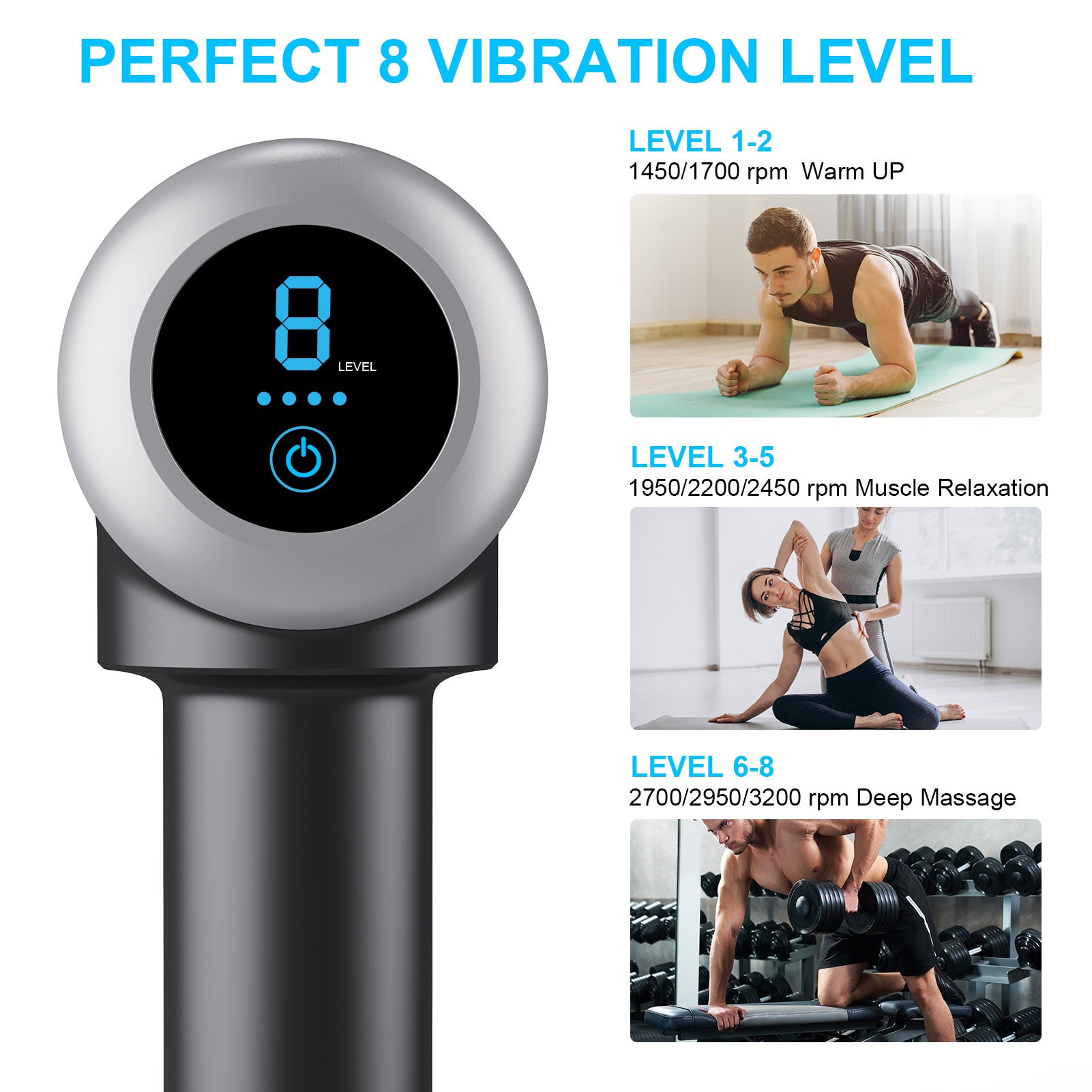 Digital Indicator Screen
This deep tissue massage gun is designed with a digital indicator screen.
Digital display to show the gear and charging status.
"C" means "charging" "F" means "fully charge"
Touch the adjustable switch to adjust the gear.
4 lights on: the battery is fully charged;
3 lights on: 70% power;
2 lights on: 40% power;
Red lights on: less than 10% power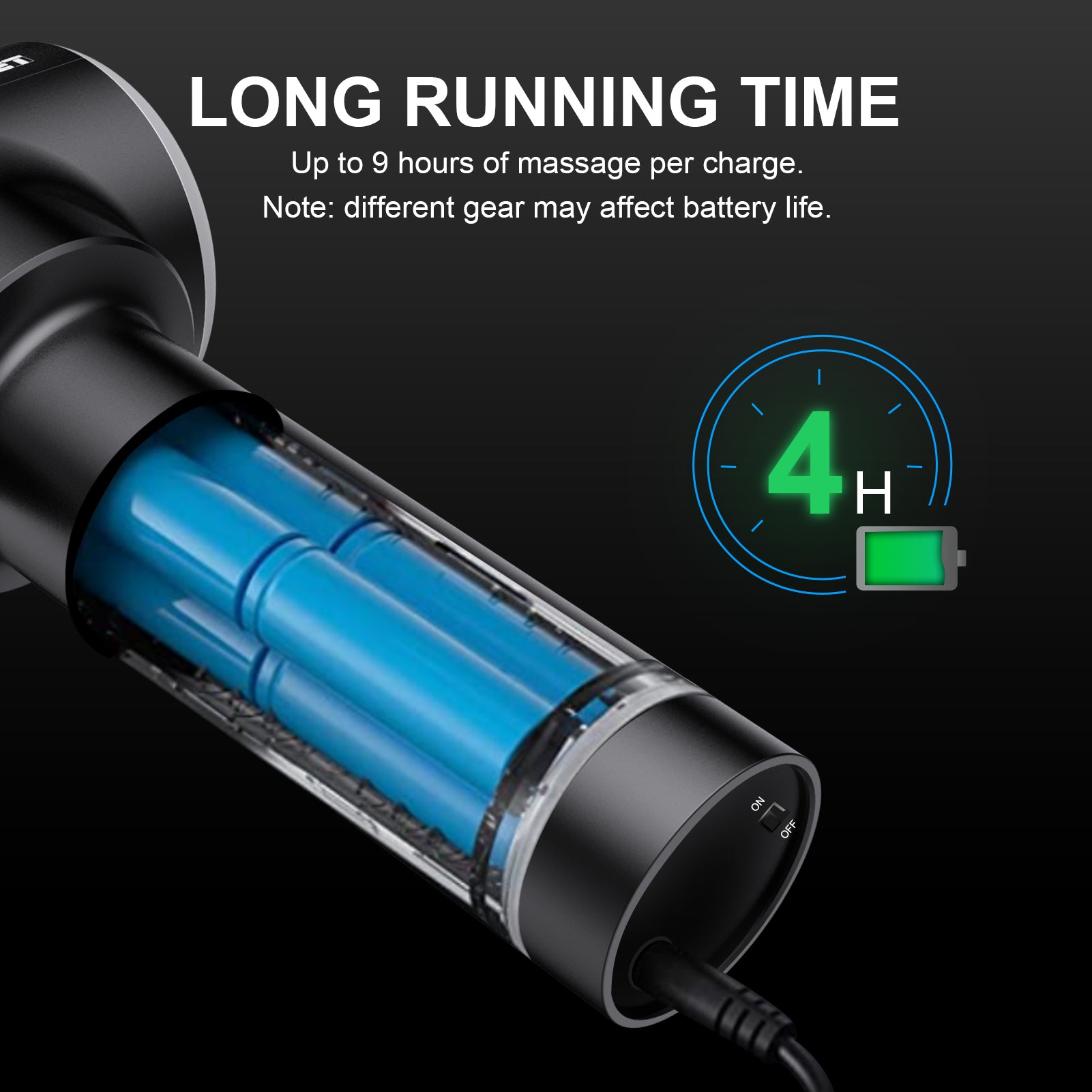 2500mAh Battery
This massage gun is contained with a 2500mAh battery. 3-4 hours per charge, could use up to 9 hours.
Note:
According to different body parts, the duration of using the massage gun is also different.
Avoid prolonged massage in the same area, damaging muscles and bones.

Package List:
1 x Black suitcase
1 x Massage gun body
1 x Charger
4 x massage heads (Fork shape/Large ball shape/Bullet shape/Plate shape)
1 x Manual
4 x Silicone fixing ring

---
This massage device really works.
Comes with a handy carrying case and four interchangeable massage heads. It seriously relieves my muscles after a hard working day.
This massage gun feels AMAZING
This product really does the job beautifully, plan to buy another one to give friends a birthday gift. Recommend for anyone dealing with sore muscles.
This is the best massager i have used.
I have used it about 5 times. It works deep into muscles and i feel it's effect immediately. This massage gun is also much quieter at max speed. Really easy way to give yourself or spouse a massage. Overall great value!
This massage gun is a bargain!
I had shoulder pain since this year, it is not very economic for me to go to the local massage parlor frequetently. So, i bought this product. Super easy to use, even my husband can do it. It has several attachments, I haven't used all of them but my family will.
Release my pains
It has multiple strong vibration settings to help relax the muscles. I love to workout and play sports, it is one of the best investments for me.