---
---

Adorable Fire Truck Toy for 12-18 Months boys Girls Gifts with Flashing Lights And Realistic Sound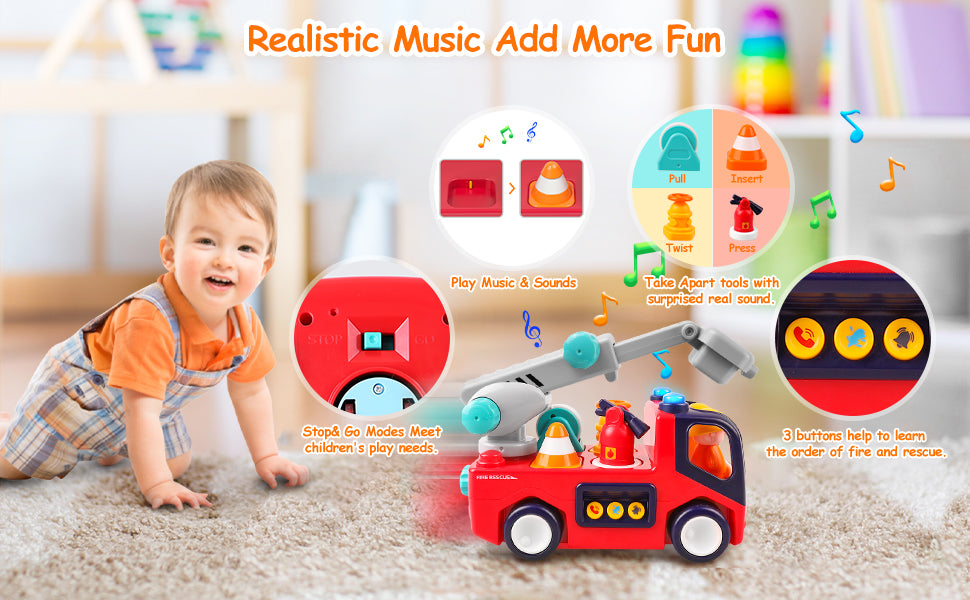 Attract baby's attention with the Flashing Lights and Musical Song With Realistic Sounds Great for Early Development!
This toy cars Fire Truck is made of premium ABS plastic,no small parts, sturdy, durable and lightweight, with best Protection Also. With 4 fire fighting tools, equipped with 2 firemen, 3 different function buttons. Your Cute kids can enjoy amazing funny time to play different roles with friends.
Features:
Fire Engine Car With Magical】Unique and ingenious design brings endless experience with this baby car toy. A new shape, color, and sound is a learning experience for your baby! This Fire Engine educational toy is linked to developing sensory-motor skills for your kids. Colorful and vibrant lights enhance the sense of sight for your kids. The magic Car combines music, soft lighting, and firefighting parts with different sound effects. Themed playsets-role-playing, understanding emotions!

【Beyond Toys Immersive experience 】By listening to the sound of realistic fire music, the baby perceives the charm brought by the fire drill, and simulates the combined scene. The specially designed, liftable fire ladder can be rotated 360 degrees to perfectly display the fire scene. You can teach your child to press different function buttons to demonstrate firefighting. Four firefighting tools with sound effects, which can be taken out individually and can be used for hand training!

【Gross Motor skills & creativity】Great for Learning. Great for developing sensory-motor skills. Two Modes (Silent Mode & Dynamic Mode) help develop their gross motor skills and nurture their creativity. Turn on the switch and your baby will start to hear the sound of the car with lights flashing; Press the passenger and the fire facility will make a corresponding sound. If the car moves and recognizes obstacles in dynamic mode, your baby will follow the car and fully integrate into the scene.

【Parent-child interactions】Parent-child interactions serve as the earliest building blocks for physical, cognitive, and emotional development, particularly during the first three years of a child's life. With this fire engine car toy, the theme of fire fighting and 2 movable characters and 4 fire fighting facilities can give your baby an interactive demonstration. Safety has always been a fundamental part of what we do. Adjustable volume buttons will provide extra protection for your baby!

【Take It Home Lights Up】- Take it home now! Cause the fire baby toys have got the coolest design ever, with an extraordinary touch. You will never worry about the after-sales. You won't believe how much this baby fire car toy can do. This baby musical toy fire engine is a great birthday gift for 1 2 3 year-old boys and girls. What a big surprise and a great gift for your baby! Take it home and light it up!
---