---
---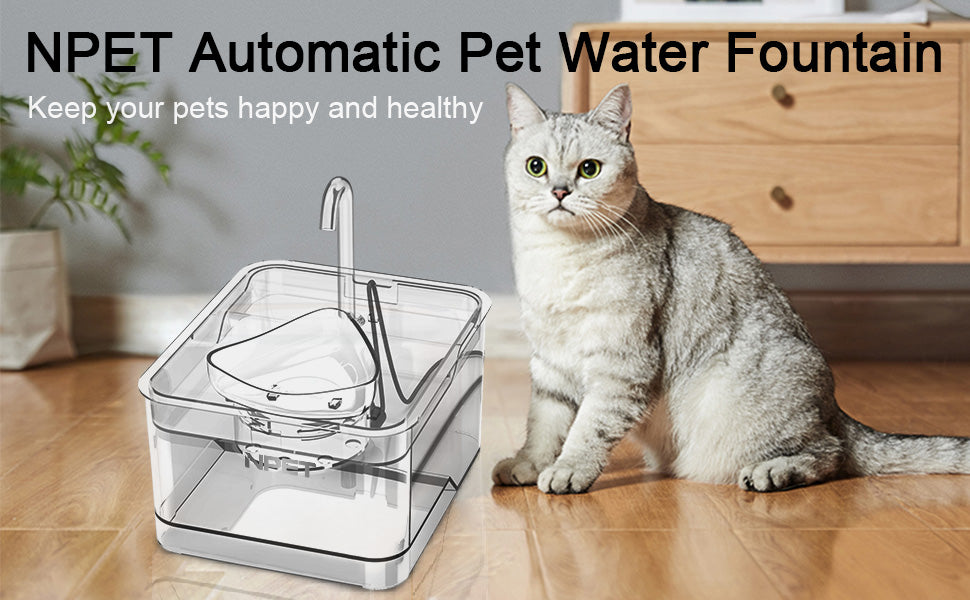 NPET WF010 Automatic Pet Water Fountain
Buy cat water fountain wf010, get suitable filter replacement at 70% off

Large Capacity
-Large capacity allows you to sleep a lazy,rush to work and travel for a few days without worry.
-2.6 L of water storage could usually meet the pet's drinking for one week.
-The amount of drinking water varies from individual. Please judge according to the specific situation.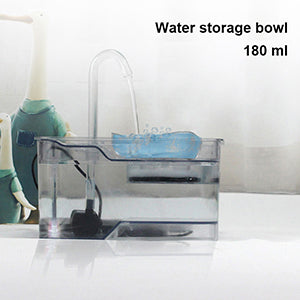 Storage Bowl
-The unique water storage bowl design can be used for emergency use, you don't have to worry about your pet even if there is a power outage at your home.
-180 ml of water storage server your pet for half day to one day.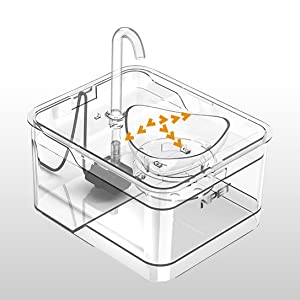 Unique Water Flow
-Many pet water fountains have a problem. The hair and food residue are floating on the water. Your cute pet has no way to drink.
- NPET pet water fountain has a reasonable water flow design. The hair and food residue are flow out of the water bowl and into the filtration system.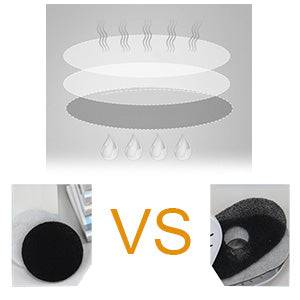 Activated Carbon Filter Sponge
-Urinary tract diseases is a common health issue for pets which is cause by minerals.
-NPET filter is an Unique activated carbon filter sponge that removes magnesium and calcium from water. Additionally, this high performance filter removes chlorine odors, and prevent stray hairs, sediment and debris.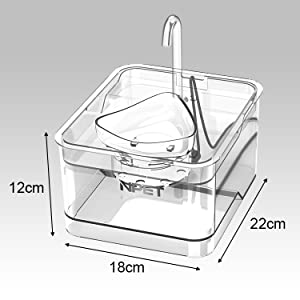 Product Details
Power: 3 w
Voltage: DC5V
Material: Food grade AS plastic
Power cord: 1.5 m
Note:
- Please keep the water level higher than the water pump.
- Please change the water once a week.
- Please clean the pump once a week.
- Please clean the pet water fountains with water, no chemical lotion.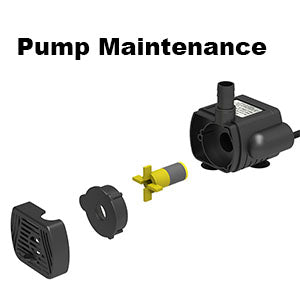 Pump Maintenance
-Remove the pump cover
-Remove the impeller cap by placing your fingernail underneath the small lip locate
-Remove the impeller and clean the parts with warm water with towel
🐾【Large Capacity】2.6 L water capacity is great for dogs, cats, multiple pet households. No need to replenish the water frequently and it can not only meet the drinking needs of cats, dogs, birds and other pets of various sizes but also could store water for one week, so you could go out for a few days without worrying about your pets

🐾【Environment Material】Made of finely polished AS resin material, this automatic water bowl is BPA-free, non-toxic and odorless which can be used safely and securely. The simple quick-release structure is designed for easy removal and cleaning

🐾【Design Concept】Fully transparency, it is easy to know when to clean and change the water, so that your pet can always drink clean and healthy water; module design, component structure, easy to install; the water tank has no extra bumps, easy to clean

🐾【Encourage Drinking 】This drinking fountain is equipped with a faucet, bowl and the spring surge mode is suitable for the drinking habits of cats, dogs, and more pets. Your pet will like to drink water with NPET pet water fountain

🐾【Filtered Water】NPET pet water dispenser adopts high-density and high-content activated carbon filter, and the filter structure is matched with white high-density filter cotton to achieve multiple filtrations, which can effectively maintain water quality, increase oxygen content, and protect the health of pets

.
🐾【Model Comparison】We have several models of cat fountains that hold a different amount of water.

 

Check it out here.
---
Satisfied kitties 😸
Love this product! From a cat who ONLY drank out of the running sink to well... doing the same but out of this fountain (her own 'sink').
So easy to take apart and clean with the dishes and reassemble. A good pipe cleaner keeps tube clean.. Even the hose is easy to put back together. Filters catch the food that may rinse out of kitties gums.
Water has various speeds and the amount it holds, 2 good pitchers worth.
I love the clear container, easy to see if it's getting cloudy and just needs a good rinse. The ability to keep the pump clean is a BIG bonus, that'll save me money on a replacement.
Thank you for a GREAT product.
Can I customize this?
Great product- quiet, clean, great capacity. But my senior cat won't touch it! He begs for the tub faucet every time anyone enters the bathroom, but he is not at all interested in this water fountain. I had hoped to extend the height of the faucet end and use something more like a fountain that a directed pipe, and purchased the "Replacement Faucet Kit" in hopes of doing that, but the pipe diameter is too large to fit this WF010.
Please make a kit similar to WF020TP-FK that will fit this fountain, WF010. Thanks!
Great so far!
I've only had it a few weeks, but so far it's way better than the last fountain I had. It's really quiet and doesn't have all the hard to reach places my old one had. Love it!
Good minimalistic fountain
Great fountain, the cats love it! I only have to clean and refill it about once a week. Initially ordered both the circular and rectangular faucet style ones, but the cats preferred the rectangular one, plus it's a bit easier to clean and holds more water. Would definitely recommend!
Sleek design and very quiet
My cats LOVE this fountain! I like how tall it is and how the design keeps my cats from getting their fur wet. I like how quiet it is too.My old fountain had too many parts and clogged easily. How far away the pump is from where they drink is a big plus! And I also like how much water it holds. I like that it takes a few days before i have to fill it.