---
---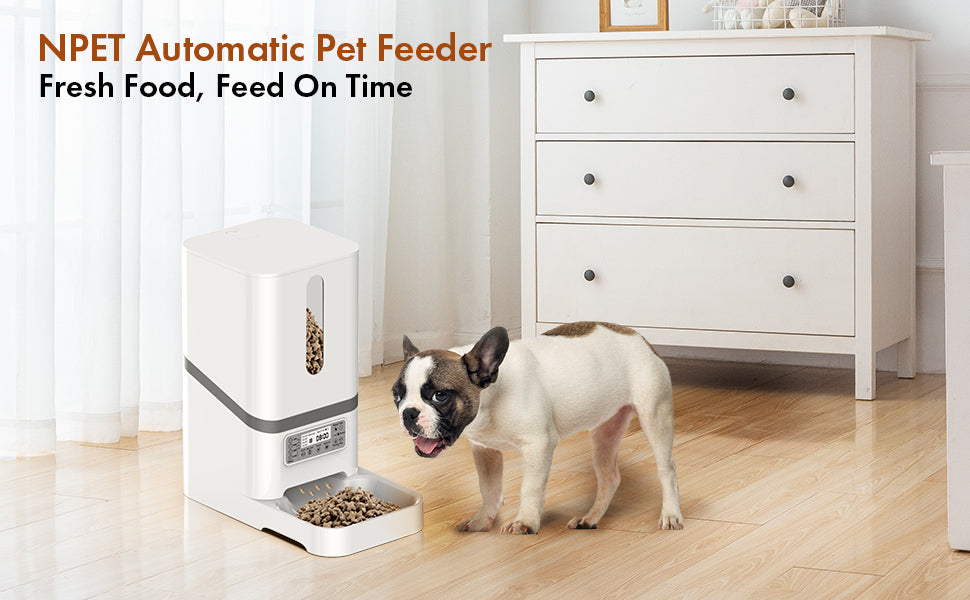 NPET automatic cat feeder is perfect for you to handle the pet's feeding issue. It allows your pets to adjust the eating habits and no more morning calls, which lets you have a nice sleep.
Triple-sealed Food Preservation
Triple Moisture-proof design to keep food dry and fresh. Leave your pet delicious dry food all the time.
Fully sealed feeder lid

Desiccant window

Hidden food dispenser
Push-type Lid Buckle
Easy to open the lid to refill food and clean the hopper. Push-type buckle to prevent your pet from knocking over the feeder and spilling food. No more worry about the extra food, feeding just as your timer and portion set.
Dual Power Supply
The NPET feeder is wall powered and/or battery-powered. In case of a power outage, the feeder will continue to function on 3 D-size batteries to assure your pet gets fed (batteries not included).
What's included:
1 x Automatic Pet Feeder
1 x Power Adapter
1 x User Manual
1 x Service Card
Tips:
1. D-size batteries are NOT included.
2. The pet feeder is suitable for small and medium pets.
3. Please hold the feeder body when you move it to other places.
4. Suitable for dry food only, with the food pellet size ranging from 0.2-0.6 inches in diameter can ensure that food is dispensed smoothly without jamming.
5. Please use an adapter and battery supply at the same time, which can ensure the feeder works well when there is a power outage.
6. For your pet's health, please wash the hopper and feeding tray regularly. The feeder body should not be filled with water. Please use a wrung wet cloth to wipe.
---
Timer not resetting red light banking
Using this for about two months , worked well. Now the red light is blinking ,i refilled it to the top, checked for clogging by emptying and rotating impeller , removed one battery ,removed power plug from wall etc bit still no imprivement. Need so e asssotance please ?
So easy!
I've had this feeder for about 2 weeks now. The lid is quite secure. My cats have tried to nudge and open it but with no success. The voice recording was cool.
Its been in use for about a month.
My first impressions are good! It looks like the photos. I like this feeder your cat hears your voice and the portion control is great. Lock lid and lock feature are great as well.
Well made feeder
I give my cat dry food now 4x a day, he want to overturn this feeder for more food, but the lid on pretty secure. Also, the voice recording was cool.
I love this automatic cat feeder
It has excellent outlook and is removable for cleaning. I think it is suitable for two cats who share one bowl, because this feeder works great in my house.