---
---


NPET M70 gaming mouse, more speed and more accuracy!
The NPET M70 gaming mouse is a superbly designed highly customizable wired gaming mouse. The mouse is designed for eSports Gaming Pros who demand the very best performance. The Gaming Mouse is elegantly and comfortable thanks to a contoured smooth ergonomic design and offers smooth and precise movements due to its high precision sensor. This makes the mouse perfect for long-lasting gaming sessions providing maximum comfort and support.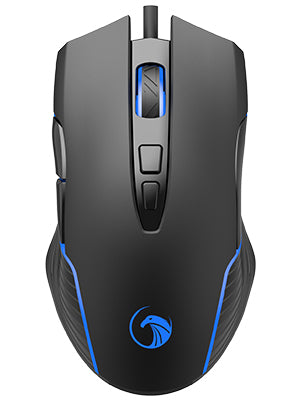 Polling Rate: 125Hz/250Hz/500Hz/1000Hz

Default DPI: 800/1600/2400/3200/4800/7200

Wired gaming mouse for PC / laptop

16.8 million color fancy cool LED backlit

100 inch/s mouse movement speeds, 20g acceleration

Durable TEFLON feet pads for smooth and accurate movements

30 million times keystroke test, 3 million times wheel& switch life

System Requirements PC with USB port Windows 10, Windows 8, Windows 7, Windows Vista and Windows XP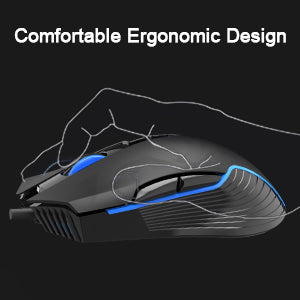 Comfortable ergonomic design mouse
Symmetrical & streamlined design provides a comfortable claw-grip design, long-term use without fatigue, gives you an extremely comfortable gaming experience the whole time. Top choice for computer game players to keep your grip Firmly during game play. Excellent cool wired PC gaming mouse for casual gamers.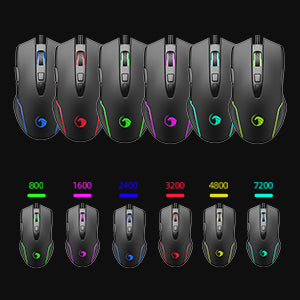 Fancy &cool lED light mouse
16.8 million color options for the backlight setting. 6 default colors, other colors need to be set by installing software. You can personalize the color for the DPI as you like. It has an excellent grip, colorful cool lighting effects, and efficient and easy operation, bringing more freshness and exciting gaming experience to gamers.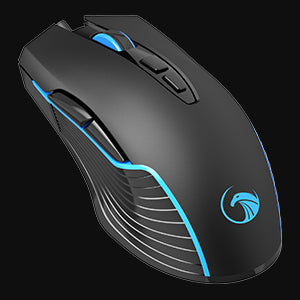 Enjoy an exciting experience and unlock your potential
The first-class laser sensor in conjunction with the Omron micro switch for this professional gaming mouse can achieve excellent accuracy, tracking speed and consistency, and a variety of styles of games can be well controlled. The mouse is designed for eSports Gaming Pros who demand the very best performance.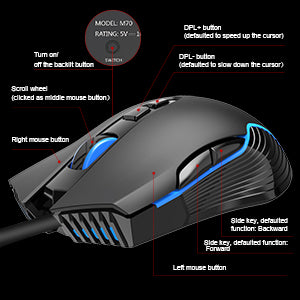 Customize to your advantage
Support macro editing, 7 mouse buttons can be programmed with NPET easy-to-program gaming software. The Rapid-fire button gives you the edge you need during those intensive FPS battles. Just play with precision and flair. Offering on-the-fly DPI and profile switching with DPI Color indicator so you always make the right moves and can focus on your gameplay.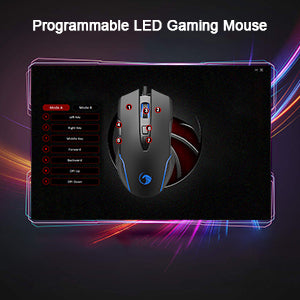 Full programmable gaming mouse
The wired laser 7200 DPI gaming mouse comes with custom driver software with 7 programmable profiles, including basic settings, DPI switching and colorful LED lighting effects. The lighting effects are adjusted by the brightness level and breathing speed. If the mouse stays out of work for 8 minutes, it will turn to power saving mode, press any button to restart it.
---
Customer Reviews
11/21/2020
FrankS
United States
Back to Wired and I'm very pleased
As much as I like working cordless with wireless mice, and to quantify my comment, I've bought and used 5 different ones from the usual Mfgs/like Logitech etc...; Interference of other wireless devices and Bluetooth makes the wireless mice a bit glitchy in navigating my screen & application. Searched for a wired mouse that might do the trick. I bough this NPET M70 Wired version 7 months ago and WOW! This is a smooth mouse! I am very pleased with its performance. I've gone back and forth in using this and my other mice to get a feel if I REALLY noticed the difference in my habitual work days, and yes: I have noticed that I am most comfortable using my M70 than the others. With some of my wireless mice, I found myself having to tweak their setting through the day to get the response I need. With the NPET is almost symbiotic. Scroll / Zoom /etc... is effortless. /Use it on Laptop, Tower, Tablet. Worked perfectly, right out of the box even without installing any additional drivers. (I'm running Win.10 64 Bit.) Great value, GREAT Mouse (with a tail) and Highly Recommend it.
11/06/2020
Russell .
United States
Great for the price.
The mouse itself feels decent at best, nice scroll wheel. I haven't downloaded any additional drivers, it's operating just fine without. I'm super happy for this purchase.
10/29/2020
Joe
United Kingdom
A fantastic gaming mouse!
I've owned this mouse for about 3 months, i was able to find a smooth and accurate feel during this time. And, the size of the mouse fits my hand really well.
08/04/2020
Samcro
United States
I'm very satisfied with mine.
I research the items I wan't to bid on/purchase online and only have so much and this "Mouse" is amazing. I use it on my PC and iMAC. I recommend the wired version.