---
---
A Solar LED Flashlight for Lighting and A Multi-function Car Emergency Tool for Safety
NPET LED Multi-function Car Flashlight born to take care of you. Although I hope you never have to use it, but just knowing it's there will bring you a little peace in many Emergency.
NPET flashlight will help to get you out of a jam and light your way to the right place.
Car Escape Emergency Tool
-During the vehicle emergencies, this emergency car flashlights will help you to rescue yourself and your loved ones.
-A seat belt cutter to cut the jammed seat belt
-A safety hammer to break the stuck window for escape the car
-A flashlight to find the way out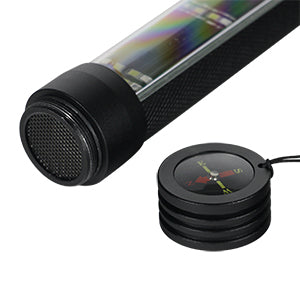 Emergency Tools
-A compass to show the direction,you will never lost your way on hiking,sailing,camping.
-A 120 dB alarm use to call for help in dangerous moments or to shock the bad guys
-Note:the alarm is the most loudly and the compass is the most accurate while you take off the compass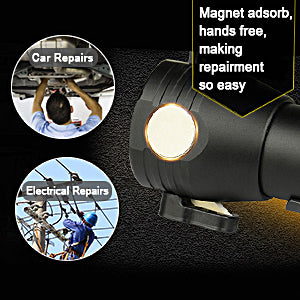 Working flashlight
-Solar flashlight is manages to represent a great blend of performance and design. It's both impact and weather-resistant.
-The weather resistant anodized aluminum alloy body is easy to grip, built-in magnet for hands-free usage, which is very convenient and will last for a long time.
Power Bank
-With a built-in 2000 mAh 18650 battery, it could be charged with USB cable (Included) or solar power.
-Standard USB output. As a power bank when you go out, you can charge for phones and other USB digital devices.
Protect your Devices in safe
-Built-in omni directional protection function chip has overcharge, over output, short circuit, over current. So it will keep your devices safe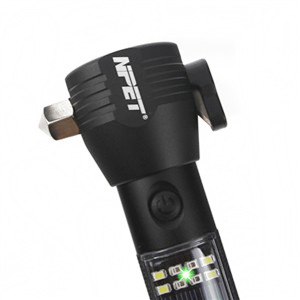 Everlasting Electricity
-50V 50MA Monocrystalline silicon solar panel durable 30 years lifetime
-Green light up while sense the sunshine,then begin to charge
-Put it under the sunshine anytime anywhere if convenient,always keep in fully charged
-Could also be charged with AC or DC
Specification:
【7 Working Modes Flashlight】: Headlight (4-6hrs) -High, Medium and Flashing, Side White Lamp (4-7hrs) - High and Medium, Side Red Light (6-7hrs) - Flashing and Slow-flashing; Press the switch to change working mode and long press 3s to change working LED. Its beam can be focused that throws light up to an impressive 700 feet

【Car Emergency Escape Tool】: Features an emergency 120dB Alarm call for help; window breaker break the stuck window and the seat belt cutter to cut the jammed seat belt; bring safe escape in emergencies, having self-defense LED flashlight tactical can help you get out of most sticky situations

【HANDS-FREE】: With a powerful magnet on the side of the flashlight head, you could attach it to the car or other metallic surfaces to use as a work light, camping lamp or emergency warning light

【Reliable and Necessary】: Flashlight is water-resistant & shock resistant for use under the most rugged, emergency condition. It comes with a weather-resistant anodized aluminum alloy body, easy to grip, tail with a compass for outdoors; Not just for auto emergencies, also great for working, camping, or hiking as it's designed to withstand lots of abuse

【Rechargeable Emergency Power Bank】: This solar flashlight has a built-in 2000mAh 18650 battery, could be charged with included USB Cable (4-5hrs) or Solar Power (30hrs), using the USB cable to connect your phone with the flashlight and charging your phone for emergency
---
Worked great while it lasted
I had this light for less than a month when it just stopped working. It appears to take a charge whether by charging cable or sunlight, but nothing (none of the lights or siren) work on it after about a month. My son and I wanted it for tracking deer after sundown in North Dakota and when we needed it most, it would turn itself off after about 30 seconds. It was over 70 degrees when trying to use so I don't think that was a factor. I'm sure it was just a fluke and others work fine, but we were disappointed in ours. Bought on Amazon.
Disappointed
Went to use my flashlight during a camping trip only to find the led light no longer works. Haven't had it that long and I keep it in the console of my truck.
Buena luz de flash
Estoy interesado en los flash light para comprar directamente con ustedes sus productos que son excelentes.
Bought 2 pcs.
It is heavy and long enough to use as a club or to break out a window. Light works and is very bright. All seemed well.
Perfect flashlight for any use.
It worked fine, really like the light. Also, I hope we never have to use most of the emergency features on this light.