---
---
Code: WF050     1) save 5% on Replacement Filters when you purchase 1 or more WF050 cat water fountain
                       2) save 5% on New Replacement Filters when you purchase 1 or more WF050 cat water fountain
Material: PC
Size: 6.8 x 6.8 x 6.5 inches
Item Weight: 0.5kg
Power: Adapter charging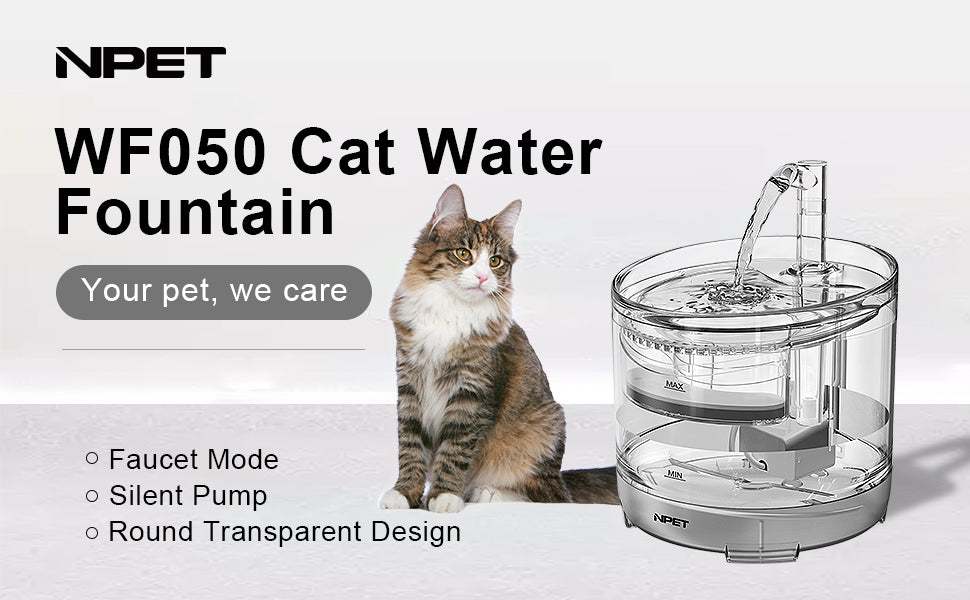 Water Outlet Modes

TALL FAUCET MODE
Attract your beloved cats and dogs to drink more water. Prevent cats from drinking tap water.


FOUNTAIN MODE
Wide gentle spring mode, increase oxygen content in water. Three water mode can meet different pet's requirement.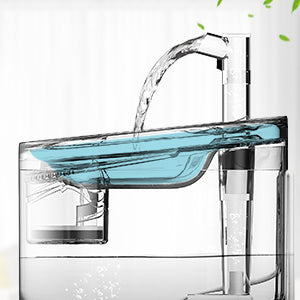 200ml Large Capacity Water Bowl
1.5L capacity water tank

 

is suitable for most cats and small dogs, no need to replenish the water frequently.

200ml capacity of storage water bowl

 

can last few days in case of a power outage.

Full Transparent design

 

reminds you to clean and replenish water in time.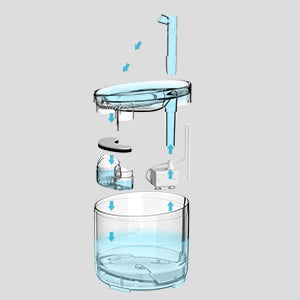 Circulating Filtration System
The quadruple filtration system

 

provides healthy and freshwater to your pet.

3 layers filter

: Sponge could catch cats hair and debris, the ion exchange resin layer could soften the tap water, the third activated carbon layer could remove bad taste and odor.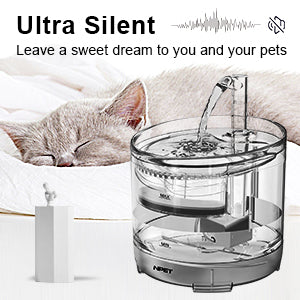 Ultra Silent Pump
The pump is super quiet, which measured

 

below 40 dB

. Leave a sweet dream to you and your pets.

Low consumption and easy to clean

: the pump is detachable and replaceable. Please clean it by hand with soap water or tap water.

【Large Capacity】1.5 L water capacity is suitable for different age of cats, dogs and multiple pet households. No need to replenish the water frequently, the storing water can last one week. Therefore you could go out for a few days without worrying about your lovely pets.
Please don't take off the silicone hose attached to the pump when you install the fountain.
NPET WF050-02 Pet fountain includes faucet outlet, 1 sensor switch, 2 filters and 1 brushless ultra quiet pump. All you need for a fountain are included.

NPET External Sensor Extend the fountain's life with this sensor switch. Range of detection: approximately 3 m. Induction angle: cone angle of 180°.
Instructions: 1. Insert the USB plug of the fountain pump into the USB input port of the sensor. Then insert the USB plug of the sensor into the adapter. 2. Stick the sensor in one place. + mark means to extend the time, - mark means to shorten the time.
Faucet mode: attract your pets to drink more water. Waterfall Mode: wide waterfall, increase oxygen content in water.

---
The Fountain of Youth
Wow! So cool. So quiet. So clear.
she loves it!
Zia, my 12yo female tabby goes right by a nicer, much bigger fountain to drink from the Npet. Cool!
Water Fountain
Good. My two Maltese sisters love your fountain.
Great product
My cat loves the fountain design. I suspected she didn't drink a lot of water so I got the pet water fountain. After a week I could see that half of the water is gone. So she loves drinking from the fountain.
Our 6 month old kitten loves it
This fountain spills out quietly when you remove the fountain tube. The body of the water is under a plastic lid which catches the overflow and filters it back through to the bottom. Good investment for your pets.