---
---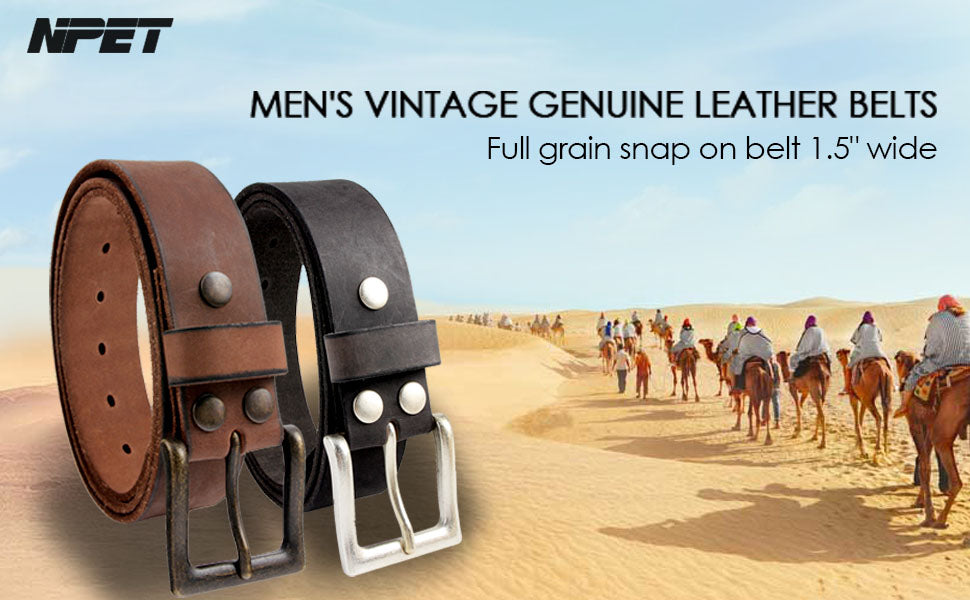 You'll never use any nylon belt after you get your hands on NPET belt. We know you would to wear your own buckle anyway, so we make ours removable.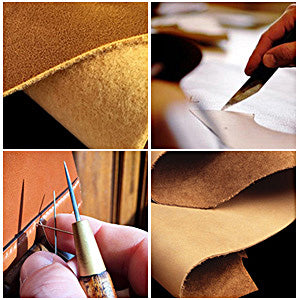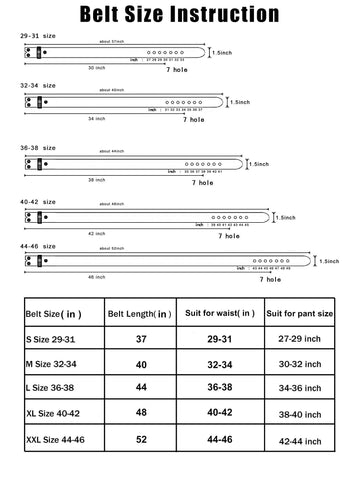 NPET Design Concept
●One-piece Design
-NPET full grain leather belt featured with Italian top layer cowhide.
-It is made of one solid piece of leather, it has not been glued or sewed and as thick as 4 stacked quarters,0.15 inch.
●Handmade
-Again and again tempered and polished ,we regard this handmade men's belt as an art.
-Just the right amount of heft and a very smart hand to make this genuine leather belt.
●Anti Allergy
- Color is dyed with natural dyes,no mercury, lead and other heavy metals.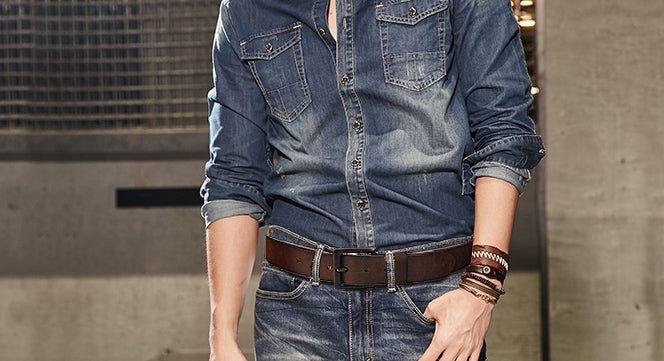 Style
●Vintage Distressed Style
- This vintage belt is develop into a classical belt ,a work belt, and never out of fashion.
- Snap on belt design for easy replacing buckles, you can replace any style buckle in 1.5 inch as you like.
-Buckle Style: suitable for Plate/Needle buckle.
●Fit Type
-For people: Adult, Men, Women, Cowboy,
Teenager, Office Worker.
-It could be easily fit for jeans, casual pants, Overalls, slacks.
●Size
-7-hole, 1.5 inch(38mm)wide, make you feel free to adjust the waistline.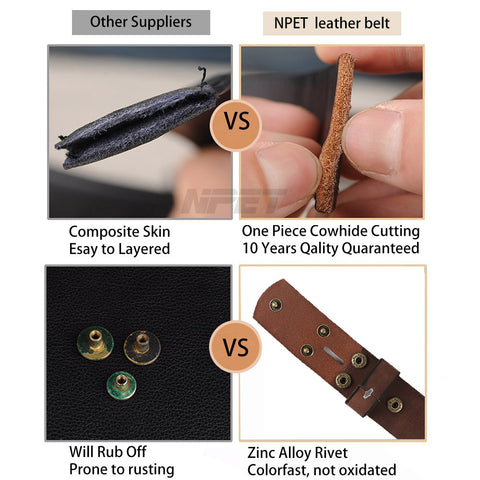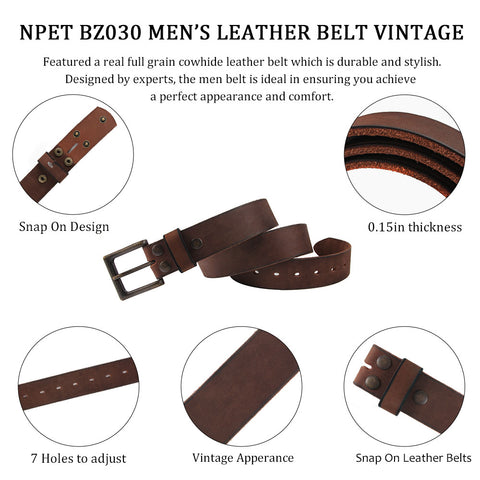 ●Durable
-This is Vegetable tanned,one-piece design belt,without broken cloth interlayer,not split, for the best strength and durability.
●Unique Edge
-The edges were unique,cowhide has been rubbed on the two side and give it a feel like suede.
●Original
-No sticker,original cowhide, the pores are obvious.
-The pores will help absorb sweat and water.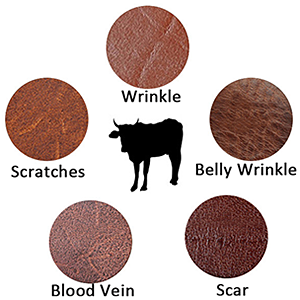 ●About Smell
-Genuine leather belt has cattle smell,so we add plant aromatic solvents to reduce that smell,no harm to people.
-The same as your leather shoes, put it in ventilated place, the smell will go in 2-3 days.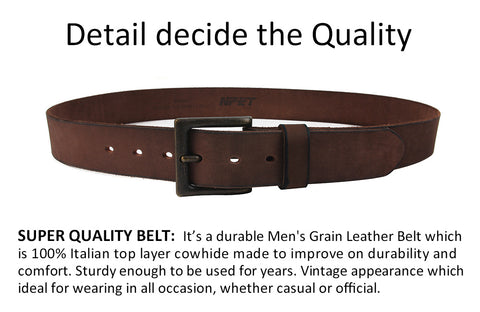 ●Gift Warp
-An ideal gift for the one you love
-Environmental material gift box for an amazing gift giving experience.
-This is extremely gorgeous and timeless with super function for for jeans, casual pants, Overalls, slacks
●Significance
-It's a gift with love and blessing.
-Best gift for family, lover, kids. Gift for Thanksgiving, Christmas, Mother's Day, Father's Day Birthday and other special events.
●Feature of Genuine Leather Belt
-There are some minor marks on the cowhide from when the cow was wearing it, we are not had the top layer sanded completely,so it doesn't have an uniform appearance.
- These above natural scars are not the quality problem.
---
The quality of the belt is very good.
The feel of it and the new leather scent was all I needed to know this is real! Love the belt buckle. A decent belt that will hold up your pants.
Good, not great
This seems like a good belt for the price. However the leather was not the thickness of four quarters as per the description.
Leather belt with buckle
My son is very pleased with the belt. He wears it everyday.
Men's Vintage Leather Belt With Buckle Full Grain
The belt is exactly what I was looking for. The quality is excellent and the shipping was fast.
A durable leather Belt
I typically put on weight in the winter, so i bought a bigger belt. The snaps are strong without popping loose. I love the thickness of the leather, pretty good quality.