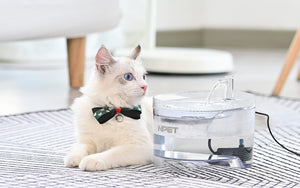 Cat Water Fountain- which one will be worth to recommend?
Before buy a drinking fountain for our cat, we should take below factors into consideration.
Cleaning Problem. Someone said that the filters became dirty easily. Wait! If the filters keep clean all the time, you should worry about your cat is sick or not. Actually, we only need to care about if the bump is easy to clean, and the water filtered adequate or not.
Volume Problem. Maybe you think your cat will drink more with bigger fountain. No, no, no…. It usually depends on the exact days you are not home. So, your cat will not thirst at that time. But if you have more than one cat, please choose a larger one.
Height Problem. If your cat with short legs, please pay attention to this problem. Otherwise, it will be a little embarrassed for him/her to drink water.
Noise Problem. If your cat is scared by louder noise easily, please choose an ultra silent one.
Function. Under some small accidents, your cat could not drink water successfully. For example, the power cut suddenly, or the charger was took off by accidentally. Maybe you need a drinking fountain with gravity function.
Material. If you value the high-end quality, we suggest NPET brand.
Recommend
NPET WF050 Drinking Fountain, has ultra silent pump under 40 dB. And its upgrade version equipped with a sensor switch, which can extend the fountain spanlife. By the way, the 2pcs filters and cleaning kit are sent to you FOR FREE!
$24.99-$29.99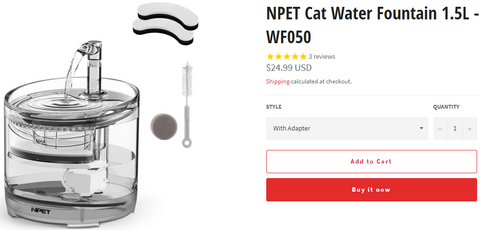 NPET WF030 Watering Fountain, has unique water flow. Don't worry about hair and food residue are floating on the water anymore.
$28.99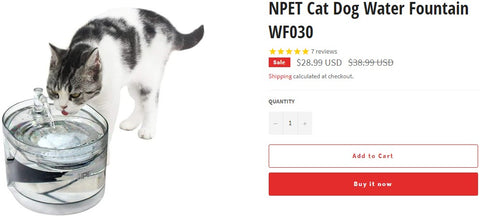 NPET WF020 Drinking Fountain, 3L large Capacity and Anti-dry Pump is their highlight. And its upgrade version has blue/red LED lighting around the upper. This kind of water fountain has the most of options for customers so far. You can choose color (white/transparent) and types (with adapter, no adapter or with sensor switch) as you like! 
$25.99-$39.99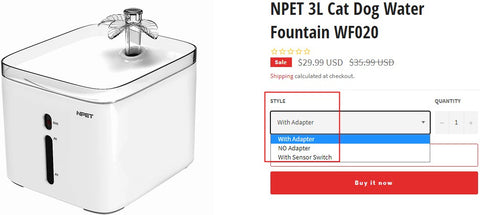 NPET WF010 Watering Fountain, come with a 180ml storage bowl. You don't worry about your pets' drinking water even if power outage suddenly.  
$28.99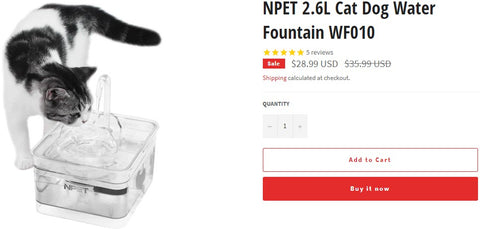 Last but not least, hope all of your cats are healthy!
---