---
---
(Note: click the coupon code, enjoy 50% off discount for second same filters at checkout automatically.)
Filters for NPET YPD-C001 Cat Fountian
【Compatible】 This fountain filter is only compatible with NPET YPD-C001 pet water fountain.

【Fresh Water】 The filter is composed of activated carbon and ionic resin. Activated carbon could remove bad taste and odor that provides fresh and clean water to pets. The ion exchange resin could soften the tap water whcih can effectively maintain water quality, increase oxygen content to keep cats healthy.

【2 Packs in One Set】 Set of 2 filters compatible with the NPET YPD-C001 cat fountain, which is worthy with such high quality

【Use Time】NPET suggests to replace the filter every 2-4 weeks. It depends on your use.

【Note】 Please soak the filters with clean water about 10 mintues before first use. It is normal that some small amount of black powder and particles attached to the filter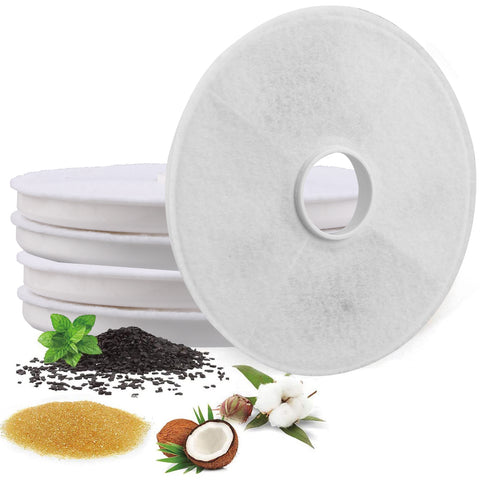 Specification

Product Size: 150*150*15mm

Package: 2 Filters

Material: PP + Cationic resin + Activated carbon

Operating Temperature: 5~40℃/41~104℉
High-density filter cotton can filter hair, debris, etc.

Coconut shell activated carbon can adsorb residual chlorine and improve taste.

Iron exchange resin can soften water and remove heavy metal substances.

Tips:
Please soak the filter throughly with clean water about 10 minutes before use.

It is recommended to replace the filter every 2-4 weeks. It depends on your use.

It is normal that some small amount of black powder and particles attached to the filter.
---